Recipe Type:
Chicken Ingredients1 lb chicken livers, halved 3 tbsp flour 1/2 tsp salt 1/4 tsp pepper 1/4 cup margarine 1/2 tsp Worcestershire sauce 1 onion, chopped fine 1 celery stalk, chopped fine 1 clove garlic, chopped fine 2 jalapenos, sliced thin (optional) 3/4 cup beef brothDirectionsStep 1Coat livers in mixture of flour, ...
Read more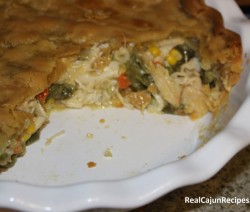 Quick and Easy – Good and Yummy! And super for leftover chicken and turkey. Ingredients2 Pillsbury pie crusts 1- 2 pound bag of frozen mixed vegetables 1/2 stick butter - 4 tblsp 1 (10 oz) can cream of chicken soup 1 (12 oz) can white chunk chicken breast or 1 ...
Read more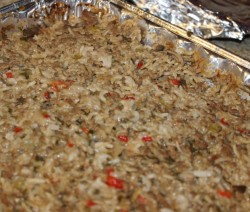 Also known as "Louisiana Dirty Rice", this dish is a true Cajun classic. There are many ways to make this dish, and this is one way from a friend of mine. Ingredients1 lb ground meat, browned 1 cup raw rice 1 (10 oz) can cream of chicken soup 1 can ...
Read more This is an easy dish to prepare. Ingredients1 whole chicken, cut up, or 6 to 8 chicken breast 1 package Lipton Onion Soup Mix Season All to taste 1 cup water 3 cups chicken broth 1 cup rice, uncookedDirectionsStep 1Lightly season the chicken with Season-All. Step 2 Bring broth and ...
Read more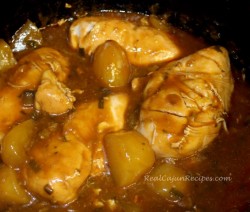 This is an old Cajun classic that has a many variations. This is my version 🙂 Ingredients1 onion, chopped 2 cloves garlic, chopped 1/2 bell pepper, chopped 1/8 tsp cayenne 1/4 tsp black pepper 1/2 tsp onion powder 1 tsp McCormick Season All 2-4 chicken breasts 1/3 jar Savoie's roux ...
Read more Boneless, skinless chicken breasts stuffed with fresh venison sausage. A spicy blend of Cajun cuisine that will please everyone's taste buds. Ingredients6-8 skinless, boneless chicken breasts 1/3 cup dry white wine 1/2 lb venison sausage 1/2 cup jalapeno peppers, chopped 1 onion, chopped 1 bell pepper, chopped 2 tbsp minced ...
Read more A thick, hearty comfort soup. Ingredients1 chicken fryer 2 (15 oz) cans tomato sauce 1 onion, sliced 1 bell pepper, sliced 2 cups frozen corn 3 to 4 potatoes, peeled and cut in quarters Salt & pepper to tasteDirectionsStep 1Boil whole chicken until cooked. Remove from pot and set aside ...
Read more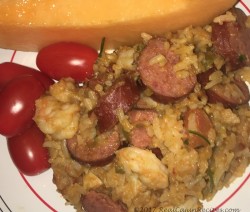 Jambalaya a mish-mash of rice, meat an/or seafood. Quick and easy way to make a one-pot meal. Add a green salad and garlic bread for a complete dinner. Use fresh or dried shrimp Ingredients1 onion, chopped 1 bell pepper, chopped 3 chicken breast, in chunks 1 package smoked sausage, cut in ...
Read more