Recipe Type:
Chicken Ingredients8 boneless chicken breasts 2 eggs, beaten 1/4 cup water Season all, black pepper, onion and garlic powder all to taste Parmesan cheese Breadcrumbs or Panko Bread Crumbs 1 lb shrimp, cut in pieces 2 small onions, chopped fine 1/2 cup margarine or butter 1/4 cup sherry or chicken broth ...
Read more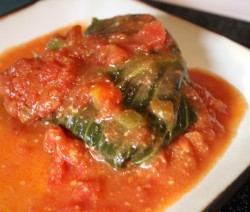 Ingredients1 cabbage, large 1/2 lb ground beef 1/2 lb ground pork 1/2 cup rice, raw 2 (8 oz) cans tomato sauce 1/2 cup water 1/3 cup lemon juice 1 onion, chopped 2 eggs, beaten 1 (10 oz) can Rotel tomatoes 1 bell pepper chopped salt and pepper to tasteDirectionsStep 1Boil ...
Read more Ingredients Ingredients1 chicken or turkey carcass 2 carrots, sliced into coins 1/2 small onion, chopped 1 stalk of celery with leaves 1 tbsp Wyler's Chicken Granuels 1/2 cup of your favorite dry pasta Salt and pepper to taste Garlic powder to taste 1/4 cup parsley, chopped 1 cup leftover (cooked) ...
Read more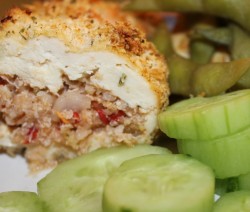 This is an easy meal to prepare. You can make this more heart healthy by baking in the oven instead of cooking it in oil. Ingredients1/2 cup onion, chopped fine 1/4 cup celery, finely chopped (or substitute celery salt and dried celery leaves to taste) 1/4 cup bell pepper chopped ...
Read more Ingredients1 whole chicken 2 cups celery, chopped 2 cups chopped onion 2 cups sweet pepper 1 clove of garlic, chopped 2 tbsp chicken fat or roux 1 (29 oz) can large tomato juice or tomato sauce 2 (4 oz) jars drained mushroom buttons, chopped fine 1 package spaghettiDirectionsStep 1Boil chicken ...
Read more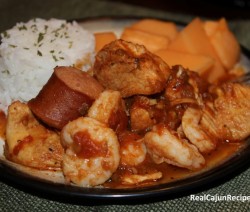 The Cajun-Creole version of paella, though more highly spiced. There are many different versions of jambalaya; in fact, the only consistent ingredients are rice, tomatoes, peppers, and onions. Ingredients12 ounces skinless chicken breast cut in 1 inch cubes 1 lb smoked sausage 2 bell peppers, chopped 1 onion, chopped 2 ...
Read more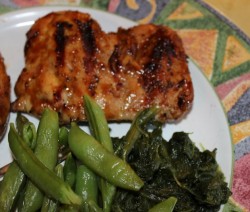 Ingredients1/2 cup onion, chopped fine 1/2 cup bell pepper, chopped 1 (8 oz) can Gebhardt's barbecue sauce (or other bbq sauce) 1 bottle ketchup 1/4 cup sugar 1/2 cup celery, chopped 2 cloves garlic, minced fine 1 (15 oz) can tomato sauce 5 drops Worcestershire Sauce 1/4 cup salad oilDirectionsStep ...
Read more Ingredients3 tbsp lemon juice 3 tbsp cooking oil 1/2 tsp cayene pepper 1 garlic clove, diced 1 (3 lb) whole chicken 1 tbsp salt 1 tbsp oreganoDirectionsStep 1Make the marinade first: In a large bowl, mix lemon juice, oil, pepper, salt, oregano, and garlic. Step 2 Cut the whole chicken ...
Read more