Recipe Type:
Chicken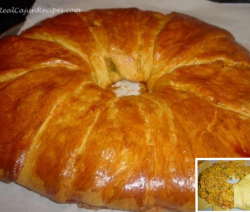 The author is a great Cajun cook and is always conjuring up recipes. Although, she has more choices, she mixes a lil of this and a lil of that just like our mothers and grandmothers did. Ingredients3 cans crescent rolls or puff pastry, cut in triangle crescent size 1 onion, ...
Read more Here is a jambalaya that your family can enjoy. It has lots of flavor, veggies, and low-fat meats! Ingredients1 package low-fat sausage 1 package boneless skinless chicken breast 1 celery stalk, chopped 2 small onions, chopped 4 cloves of garlic, chopped 1 bunch green onions, chopped 1 green bell pepper, ...
Read more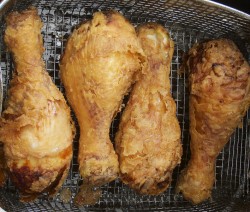 Everyone knows it is so much easier to just run out and buy fried chicken. However sometimes you are somewhere where it is not possible. Here is a great recipe for those times; like when you are camping or at the camp duck hunting. Ingredients12 chicken legs and thighs 1/2 ...
Read more Here is the best use for your beer can. Cook your chicken with it. This Cajun Drunken Chicken seasoned with crab-crawfish-shrimp-boil seasoning is sure to be a crowd pleaser. The steam from the beer helps keep the chicken moist. Ingredients1 chicken fryer 4 - 5 pounds 1/4 can beer - ...
Read more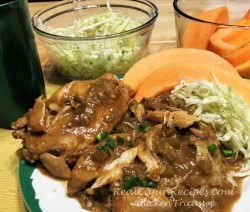 Cajuns love to get together and play cards games like booray (bouree) and euchre. While you fix this dish shuffle yourself a hand of Louisiana cards and play while it bakes. This dish is so easy and great for small dinner card games or any party or gathering. Taste so ...
Read more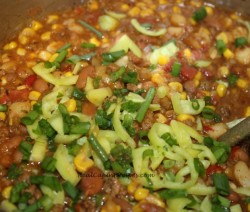 The flavor is tremendous and the ease of preparation surprising. Ingredients1 (15 oz) can Ranch Style Beans with Jalapeno onions (with liquid) 1 (15 oz) can Golden Hominy and/or Black Beans (with liquid) 1 (15 oz) can Whole Kernel Corn (with liquid) 1 lb ground meat 1 (10 oz) can ...
Read more There are so many ways that you can cook chicken. This dish was a classic dish prepared by the ole' Cajun farmers wives when the workers and her husband came out of the fields. Ingredients1/4 cup flour 3/4 tsp salt 1 cup milk 3 tbsp butter or margarine 2 cups ...
Read more Extra chicken and no idea as to what to serve for a different kind of breakfast? This recipe will serve the bill and reap you ooh's and ahhh's and c'est si bon chere! Ingredients1 1/2 cups diced chicken 3 tbsp flour 1/2 tsp salt 1/8 tsp black pepper 1 cup ...
Read more