Recipe Type:
Chicken This is a quick and easy stuffing for your baked chicken. Ingredients2 1/2 cups white day old bread crumbs 1/2 tsp finely chopped onion 3 tbsp finely chopped parsley 1 tsp poultry seasoning 1/2 tsp salt 1/8 tsp pepper 3 tbsp melted butter or margarineDirectionsStep 1Crumb bread into small pieces. ...
Read more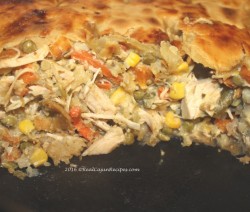 One of the best chicken pies you will ever eat. If you are ever in Breaux Bridge, LA, stop and get a piece of this delicious dish. If you cant stop there, make one today Ingredients2 large chickens 7 tbsp flour 2 (9 inch) pie shells 3 medium onions, chopped ...
Read more Maque Choux is a Cajun dish made with corn, cream, bell peppers and tomatoes. It makes a good accompaniment to ham and chicken and is even good for breakfast served with bacon. In this recipe it is used to "smother" sautéed chicken. Ingredients1/3 cup canola oil 1 chicken cut into ...
Read more Ingredients4 chicken breasts 1 (10 oz) can cream of chicken soup 2 packages crescent rolls 1 cup shredded Mexican Cheese 1 tbsp chili powder 1/2 tsp cumin 1/2 tsp black or red pepperDirectionsStep 1Cut up the chicken into small pieces. Brown in a small pot on top of the stove. ...
Read more Some cooks recommend lightly salting cut up eggplant and letting it stand for 15 to 30 minutes before rinsing, drying and cooking to reduce characteristic bitterness. The vegetable may be broiled, pan-fried or baked along with olive oil, tomatoes, peppers and fresh herbs and spices. Here chicken and bacon, two ...
Read more This is my mom's shortcut recipe for Chicken and Dumplings. I have absolutely loved this since I was a kid! Ingredients1/2 small white onion 1 green bell pepper 1 tbsp olive oil or butter 3 - 4 tbsp roux 1 cup water 1 packet brown gravy mix 4 frozen biscuits ...
Read more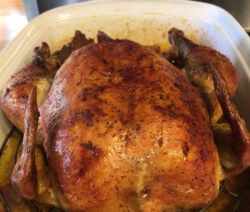 This recipe turns out a roasted chicken almost as good as my Mom's. Ingredients1 large roasting chicken 4 tsp salt 2 tsp paprika 1 tsp cayenne pepper 1 tsp onion powder 1 tsp thyme 1 tsp white pepper 1/2 tsp garlic powder 1/2 tsp black pepper 1 large onion, quarteredDirectionsStep ...
Read more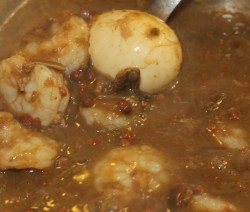 Most people now realize that okra and the word "gombo," which means okra in some parts of Africa, mean the same thing. Not to be confused with the soupy gumbo that Cajuns have become well known for. So this means that you can make a gumbo of gombo. Have you ...
Read more