Recipes With Course:
Desserts In memory of his grandmother on her passing in 2006, Brandon, Co-editor of the website, writes: Annie Mae Abshire was born, raised, married and lived in Kaplan, LA, for all 88 years of her life. She was a loving mother, grandmother and great-grandmother who will be missed by all. With ...
Read more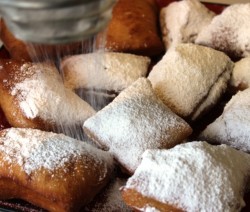 Beignet is Cajun French for "French Donut." Cafe Du Monde in New Orleans popularized this indulgent Cajun treat. See our complimentary blog post, Making Old-fashioned Beignets, for illustrated instructions.
Read more