Recipes With Course:
Desserts Ingredients1 1/4 cups sugar 2 tbsp melted butter 2 eggs 1 cup milk 4 cups flour 4 tsp baking powder 1 tsp vanilla extract Canola or vegetable oil for fryingDirectionsStep 1In a large glass bowl, cream the sugar, eggs, vanilla and butter. Step 2 Combine the flour and baking powder. ...
Read more Ingredients3 boxes white cake mix 6 eggs 1 1/2 cups water 1 1/2 cups cooking oil 4 cups flour Canned figs Handful of flour and sugar for the dough Pinch of nutmegDirectionsStep 1Combine all ingredients in a large glass bowl. Refrigerate covered until ready to prepare tarts. Step 2 Roll ...
Read more Ingredients1 cup light Karo Syrup 3/4 cup sugar 3 eggs 1/2 cup pet milk 2 tbsp flour 1 ½ cups pecans 2 tsp vanilla Unbaked Deep Dish Pastry ShellDirectionsStep 1Preheat oven to 350 degrees. Step 2 In a large glass bowl, mix the Karo syrup, sugar, eggs, milk, flour, and ...
Read more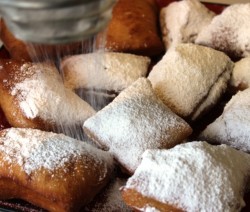 Beignet is Cajun French for "French Donut." Cafe Du Monde in New Orleans popularized this indulgent Cajun treat. See our complimentary blog post, Making Old-fashioned Beignets, for illustrated instructions. Ingredients1/2 cup shortening 1/2 cup sugar 2 packages yeast 6 1/2 cups plain flour 1 tsp salt 1 cup evaporated milk ...
Read more Old fashioned homemade doughnuts. Ingredients2 tsp baking powder 2 eggs 4 cups flour 1 cup milk 1/2 salt 1 tsp vanilla 2 cups sugar 1 tsp butter, melted 2 tsp nutmegDirectionsStep 1In large mixing bowl, combine all dry ingredients. Add the milk, vanilla and butter. Step 2 Roll out and ...
Read more Ingredients Ingredients1 Devil's Food Cake mix 2 boxes chocolate pudding mix 2 small tubs of cool whip 1 package Oreo cookiesDirectionsStep 1Make the Devil's Food Cake and the chocolate pudding as directed in their instructions. Step 2 In a 9x12 or 8x8 dish, crumble 1/2 of the cake for the ...
Read more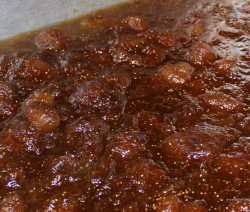 Cooking figs take patience waiting for the sugar to turn into syrup. But as any Cajun will tell you, it's well worth the wait. Great with Cush Cush and for making fig tarts and cakes. Ingredients4 gallons fresh figs (16 quarts) 1 tsp baking soda 7 lbs sugar - 16 ...
Read more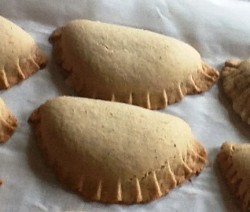 A small pastry with a usually sweet filling = the tart can be made open or closed. The tart can be filled with fig preserves, blackberry filling, pineapple, sweet potato, bouille..if you like it ..fill it… Ingredients1 cup butter-flavored Crisco 2 cups sugar 4 eggs 1 tsp vanilla 2 tbsp milk 4 1/2 cups all-purpose ...
Read more