Recipes With Course:
Desserts Ingredients3 cups flour 3 tsp vanilla 1 1/2 cup sugar 1/2 cup butter, room temperature 1/4 cup milk 2 eggs 1 tsp nutmeg 1 tbsp baking powder dash of salt 1 tsp cinnamon (optional)DirectionsStep 1Preheat oven to 350 degrees. Step 2 Sift all dry ingredients. Blend in butter. Add milk, ...
Read more Old fashioned homemade doughnuts. Ingredients2 tsp baking powder 2 eggs 4 cups flour 1 cup milk 1/2 salt 1 tsp vanilla 2 cups sugar 1 tsp butter, melted 2 tsp nutmegDirectionsStep 1In large mixing bowl, combine all dry ingredients. Add the milk, vanilla and butter. Step 2 Roll out and ...
Read more Ingredients Ingredients1 Devil's Food Cake mix 2 boxes chocolate pudding mix 2 small tubs of cool whip 1 package Oreo cookiesDirectionsStep 1Make the Devil's Food Cake and the chocolate pudding as directed in their instructions. Step 2 In a 9x12 or 8x8 dish, crumble 1/2 of the cake for the ...
Read more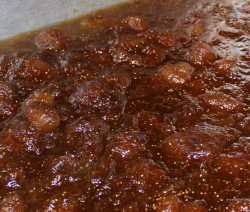 Cooking figs take patience waiting for the sugar to turn into syrup. But as any Cajun will tell you, it's well worth the wait. Great with Cush Cush and for making fig tarts and cakes. Ingredients4 gallons fresh figs (16 quarts) 1 tsp baking soda 7 lbs sugar - 16 ...
Read more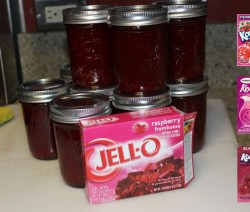 Figs jams can be made with virtually any Kool Aid flavors – the original six flavors were Strawberry, Raspberry, Orange, Lemon-Lime, Grape, and Cherry, Although not all are a perfect choice, many are suitable to flavor figs including Black Cherry, To reduce the amount of sugar and sweetness, Kool-Aid flavors can be used instead of Jello. ...
Read more Ingredients1 large box orange jello 1 (16 oz) bag miniature marshmallows 1 (8 oz) can crushed pineapple 1 (8 oz) package Philadelphia Cream Cheese 1 envelope Dream Whip Topping Mix 1 cup cold water 2 cups hot waterDirectionsStep 1Dissolve jello in the hot water. Step 2 Add softened cream cheese, ...
Read more Ingredients1/2 cup milk 16 large marshmallows 1 pastry pie shell, baked 6 Almond Hershey Bars 1 container of Cool WhipDirectionsStep 1Melt Hershey bars, marshmallows and milk together. Cool and fold in cool whip. Step 2 Pour in baked pie shell and chill.
Read more Ingredients1 stick butter 1 (12 oz) can evaporated milk 1 cup sugar 4 eggs (if you want meringue, just the egg whites) 1 tsp vanilla 1/2 bag miniature marshmallows 3/4 loaf of white bread or hard stale French breadDirectionsStep 1In a large glass bowl combine sugar, eggs, and vanilla. Put ...
Read more