Recipes With Course:
Desserts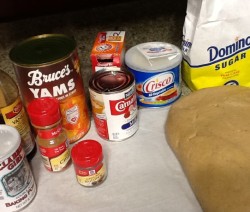 This tart recipe has been handed down from Doris' mother and my grandmother, Ella Broussard. Ingredients1 cup Crisco 4 cups flour 1 tbsp vanilla 2 cups sugar 5 eggs 5 tsp baking powderDirectionsStep 1Cream together the Crisco and sugar until fluffy. Beat eggs and vanilla into mixture. Slowly stir in ...
Read more Ingredients1/2 cup shortening 1/2 cup brown sugar 2 eggs beaten 2 1/2 cup flour 1 tsp ginger 1/2 tsp ground cloves 1 1/2 cup Steen's syrup 1 cup boiling water 1 1/2 tsp soda 1 tsp cinnamonDirectionsStep 1Cream shortening and sugar. Add eggs and the sifted dry ingredients. Alternate with ...
Read more Ingredients5 eggs, slightly beaten 1 1/4 cups sugar 1/2 tsp salt 6 cups milk, scalded 4 cups heavy cream 2 tbsp vanilla 4 jars cherries with juiceDirectionsStep 1Combine eggs, sugar and salt in a sauce pan. Pour hot milk over egg mixture. Cook over low heat, stirring constantly, until mixture ...
Read more Ingredients3/4 cup cooking oil 2 cups sugar 3 cups flour 2 eggs 1 tsp salt 1 tbsp cinnamon 1 tsp nutmeg 2 tsp vanilla 1 (20 oz) can apple pie filling 1 tsp baking sodaDirectionsStep 1Mix all ingredients together and pour into a 9x13 pan. Step 2 Bake at 350 ...
Read more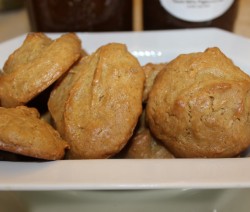 Figs are a delicious fruit, often thought of as sacred. At one time, Greece even made it illegal to export figs, wanting to make sure that they had the advantage at the Olympic Games. Mawmaw sure would've high jumped for fresh figs to make her jam and preserves. Ingredients2 cups ...
Read more One of the more popular classic Cajun sweet pastries. I can still smell the aroma wafting out the kitchen when these were cooking. Ingredients1/2 cup margarine 2 cups flour 1/2 tsp vanilla 1 tbsp milk 1 tbsp baking powder 1/4 cup sugar 2 eggs 1/8 tsp salt Oil for deep ...
Read more A  popular and classic hoilday yam casserole. Ingredients2 eggs, beaten 3 cups cooked sweet potatoes, mashed 1 stick softened butter 2/3 cup white granulated sugar 1 tbsp vanilla extract 2/3 cup light brown sugar 1/3 cup flour1 stick butter (8 tbsp) 1/2 cup chopped pecansDirectionsStep 1Mix together eggs, sweet potatoes, ...
Read more