Recipe Type:
Crawfish Crawfish or Crayfish are well known here in South Louisiana and their popularity have grown throughout the world. They are a Cajun favorite for dishes such as this one. Ingredients2 pounds crawfish tails, uncooked 1/2 cup flour 1/4 cup cooking oil 2 cups water 3 large onions 1 bell pepper ...
Read more This side dish is a great sidekick for barbecue brisket or grilled meats. It also makes a great stuffing for bell peppers. Ingredients1 pound small shrimp 1 pound Louisiana crawfish 1 bell pepper, chopped 2 stalks celery, chopped 1 onion, chopped 1 clove of garlic, minced 1 bunch scallions (green ...
Read more This is an easy no bake main dish – a classic made simple. Ingredients1 pound shrimp 1 pound crawfish 1 pound chicken 1 medium bell pepper chopped 2 medium onion chopped 1 bunch green onions - scallions 8 tbsp margarine 1 small can evaporated milk 1 tbsp flour 16 ounces ...
Read more We have always loved crawfish fettuccini but didn't quite care for all the cheese. It seemed to make it too thick and sometimes too dry. The changes I made also stretches the serving quite a bit. Ingredients2 pounds Louisiana crawfish 1 stick butter 2 onions 2 bell peppers 1 stalk ...
Read more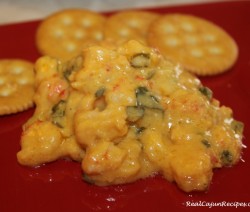 This is a great appetizer served on Ritz crackers or in serve as a main course in a pre-baked pie shell. I always make a double batch as it seems to disappear FAST! Ingredients2 tbsp butter 1 bunch green onions- scallions chopped 2 tbsp flour 1/2 cup whipping cream 1/4 ...
Read more A delicious creamy and mildly spicy version of Crawfish Fettuccini. Editor's note: Shrimp may be substituted in this dish. Ingredients1 package fettuccini noodles - cooked and set aside 1 stick butter 1 cup finely chopped onions 1 cup finely chopped celery 1 cup finely chopped bell pepper 1 container (16 ...
Read more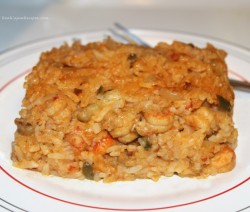 Congrats to the newlyweds, and authors of this recipe, Jessie and Jeremy Watson. The recipe is being posted as this is one of Jeremy's favorite from his mother-in-law's recipes. Ingredients1/2 cup butter or margarine 1 1/2 cup onion chopped 1/2 cup bell pepper chopped 1 can cream of shrimp or ...
Read more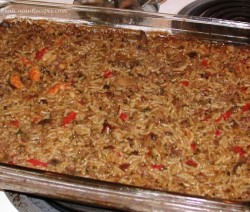 We Cajuns look & find anyway to cook a great meal. With this dressing you may add shrimp or crawfish. Ingredients1 pound ground beef 1 can cream of mushroom soup 1 can cream of celery 1 - 10 oz can French onion soup 1 beef boullion cube 1 cup raw ...
Read more