Recipe Type:
Crawfish Crawfish are plentiful in Southwest Louisiana, and are used in several different dishes. This particular dip may be served in small individual pastry shells. See recipe on site for the easy to make pastry shells. Ingredients1/4 cup butter 1 - 2 medium onion chopped 2 bunches shallots chopped 1/2 medium ...
Read more As a young child growing up, I remember on Friday's during Lent, my Dad would trade some of his farm goods for fresh shrimp. Mom would make us shrimp stew with fried shrimp balls. As with almost any shrimp dish, crawfish can be used instead. Ingredients2 pounds shrimp or crawfish ...
Read more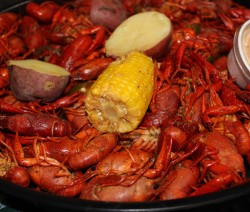 The crawfish boil is one the most popular Cajun meals. Cajun seafood boil seasonings (we love Slap Ya Mama's Seafood boil) do the trick to perfectly season crawfish. This recipe is for the times you don't have it or can't buy it. A neat addition to boiled crawfish is adding ...
Read more If you have lived, fish or hunted in South Louisiana, you know that seafood and wild game abound. Most Cajun children know how to catch shrimp by throwing a cast net while standing ankle deep in Rockefeller Refuge waters or the waters of Rutherford Beach. Because of its unique location, ...
Read more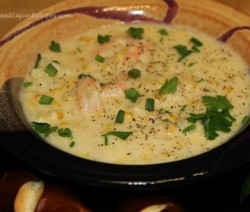 What a delightful and rich tasting soup. Serve this as an appetizer and you will be the hit of your dinner party. Great anytime comfort food is needed. Ingredients1 stick margarine or butter - 1/2 cup 2 tbsp flour or gravy mix 1 medium chopped onion white onion preferred 1 ...
Read more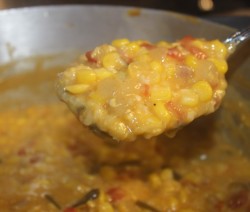 This is a great party dish for entertaining. Ingredients2 (15 oz) cans cream corn 1 (15 oz) can whole kernel corn drained 2 eggs 1 cup milk 1 onion, chopped 1/2 medium green pepper, chopped 1/2 medium red pepper, chopped 1 (10 oz) can Rotel Tomatoes 1/2 tsp salt 1/2 ...
Read more This dish can be used as a side dish or main course. Ingredients1 large onion, chopped 1 large bell pepper, chopped 1 stick margarine or butter 1 lb crawfish tails 4 (10 oz) cans cream of potato soup 2 (15 oz) cans yellow cream style corn 3 cups of skim ...
Read more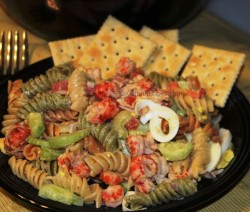 Cold or warm, full flavored mixture of pasta, veggies and spicy crawfish; great for Sunday dinner or family gatherings and spring picnics. Ingredients1 lb Louisiana Crawfish tails 1 (8 oz) package elbow pasta or choice of pasta1/2 cup chopped red onion 1/2 cup chopped celery 1/2 cup chopped bell pepper ...
Read more