Recipe Type:
Chicken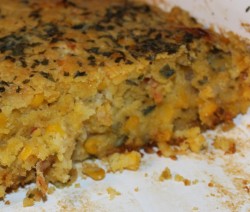 Mouth-watering Caj-Mex Cornbread that can be a meal in itself or as a side dish. Ingredients2 boxes jiffy cornbread mix 2 eggs 2/3 cup milk 1 pound ground beef or crawfish 1 medium onion, chopped 1 small bell pepper, chopped 1 jar sliced mushrooms 1/2 bag shredded Mexican cheese 1 ...
Read more Mawmaw tried this recipe from Jack Miller's website. It seems almost every child growing up and playing baseball grew up eating Jack Miller's Ball Park Hamburgers; that same sauce is used in this recipe. Ingredients1 fryer quartered 3 to 5 potatoes sliced 1/2 inch thick 2 to 3 raw carrots ...
Read more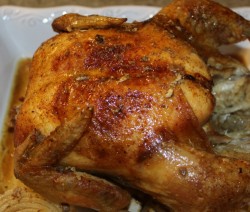 A great recipe for baking chicken! Broiler-fryers, roasters, stewing/baking hens, capons and Rock Cornish hens are all chickens. Ingredients1 frying chicken 3/4 cup flour 1 1/2 tsp salt 1/4 tsp pepper 1/4 tsp garlic salt 1 1/2 tsp paprika 1/4 cup butter or margarine 1/4 cup shortening 1/4 cup butter ...
Read more This is a quick chicken cornbread casserole, that's easy to make. Ingredients4 cups crumbled corn bread (I use two boxes of Jiffy) chopped onions, celery, bell pepper to taste 1 1/2 cup chopped chicken 1 can cream of chicken soup 1 1/2 cup chicken broth 1 cup grated cheese of ...
Read more I found this recipe on the net, but I tweaked it to fit my family's likes. Great side dish with baked chicken. Ingredients1 box Chicken in a Biskit crackers, crushed 1/2 cup margarine, melted 1 package frozen broccoli thawed and drained 1 can whole kernel corn, drained 1 can cream ...
Read more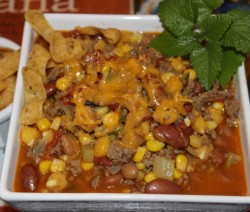 I usually cook this on Sundays before a Saints game. It's a crowd favorite — the ladies love it! A visitor posted that this soup freezes really well! Ingredients2 pounds ground beef 2 15 oz cans kernel corn (undrained) 2 15 oz cans pinto beans (undrained) 2 15 oz cans ...
Read more My friend's mom used to make these for us we were in high school. They were our favorite! Since we are all grown and moved out, we don't see each other very often. So, out of the blue, I called her and she gladly gave me her recipe. I didn't ...
Read more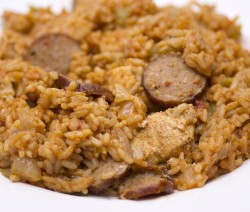 Jambalaya, a Cajun/Creole dish, is perhaps the most versatile main dish that Louisiana has to offer. The most important thing with this dish is to use the right equipment; any heavy bottomed cast iron pot or Dutch oven. Ingredients1 pound Andouille (Cajun) or mild smoked pork sausage, sliced 1/4-inch thick ...
Read more