Recipe Type:
Chicken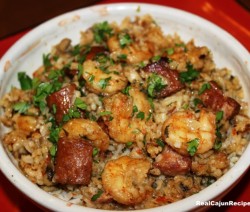 This is a very easy to make shrimp Jambalaya. Great for a Lenten meal – substitute vegetable broth for chicken broth. One to two links of sliced smoked sausage may be added. Cajuns called their rice cookers Hitachi back in the day when everyone had that brand; in making this ...
Read more This chicken stew, once cooked, tastes so much like chicken fricassee. So easy, so tasty! Ingredients1 cut up fryer or chicken of your choice 1 envelope Lipton Golden Onion Soup 1 can cream of mushroom soup 1 can water 1 bell pepper, chopped 1 celery stalk, chopped 1 tbsp Kitchen ...
Read more Cajuns love their seafood. This "soup for the Cajun soul" can be made with crab, shrimp, crawfish, all three or in combination with each other. Experiment with the mixtures of the seafood available in your area. Ingredients1 block margarine or butter (8 tbsp) 1 cup onions, finely chopped 1/2 medium ...
Read more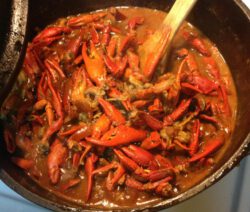 Sauce Piquant – A hot spicy stew made with tomato paste or sauce, roux and most any meat available. The most popular is seafood, fish, chicken, turtle or alligator sauce piquant. As the recipe implies though, use whatever you want!!! Ingredients1 pound crawfish (you can also use shrimp, crabmeat, or ...
Read more Sometimes you may want seafood Étouffée, but find that you only have chicken on hand…well, I guess we gonna use chicken. I am dedicating this recipe to my Nannie, now gone from this earth. As the daughter of a trapper/trader she learned to cook early…sometimes it was only with the ...
Read more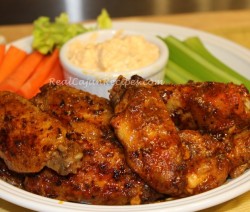 Hot, Hotter or Hottest… your choice when cooking these wings. Ingredients1 (16 oz) bottle hot sauce (see below for suggestions) 2 sticks of whole, salted butter 1/3 cup buttermilk 1/4 cup mustard Salt, black pepper, red pepper Juice of one lemon 32 chicken wings, tips cut off, drums divided from ...
Read more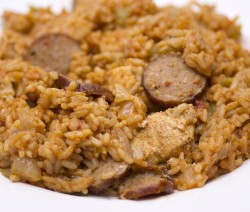 A favorite Cajun classic! Dale Begnaud in Memory of his Mom, Meredith Ingredients1 large hen or chicken 3 cups onions, chopped 1 bunch green onions (scallions) 2 large bell peppers 1 clove garlic, minced fine 3 cups long grain rice 1 pound hickory smoked sausage salt and pepper to taste ...
Read more This recipe is ideal for a hearty main dish. It is also great for potlucks or to feed a crowd! Leftovers also freeze well if needed. This spaghetti is sure to be on the "most requested" list. Ingredients1 whole fryer or chicken breast 1 large onion 1 large bell pepper ...
Read more