Recipe Type:
Chicken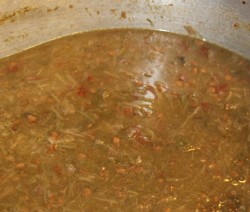 The cook shares – I find most gumbo recipes to watery for my taste. So I loaded this one up with a bunch of stuff – chicken, smoked sausage, shrimp and okra. I use a dark roux, which doesn't thicken the gumbo as much as a light one. Therefore the okra ...
Read more This dip tastes JUST like Buffalo wings! The recipe provides a mild kick, but you can make it as hot or mild as you want. My friends can't stop eating it when I bring it to parties.
Read more The secret to this gumbo is the roux! Always use warm to hot water to dissolve the roux. While you're at it, make extra roux as it keeps well in or out of the refrigerator.
Read more To get this recipe, I had to beg and rely on a memory! Kaplan's finest and some older softball players, the Jr Bucs and Lady Bucs, recently reunited. This pasta dish was one of the the "hits" of this baseball reunion. The cleats and gloves that had been hung up ...
Read more You will be using a BBQ pit for this dish! Crab boil makes the flavoring difference in this chicken. We think this chicken can compete in flavor with KFC Chicken! Buy an extra case of beer (Drink Responsibly) to treat the cook or better yet Kiss the Cajun Cook – ...
Read more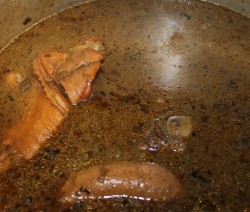 This fresh hen gumbo will have you wanting to lick the bowl!
Read more