Recipe Type:
Chicken Dirty Rice gets its name from the rice looking "dirty" after the dish is complete. The chicken giblets give this dish its unique flavor.
Read more Giblets used in this recipe typically include the heart, gizzard, and liver.
Read more A mouthwatering gumbo deep from the heart of Acadiana swamp country. Seafood gumbo cooking at it's finest. Lump bayou crab meat and bayou hot shrimp with the fixins of Cajun vegetables and the secret of Brookie's bayou juice.
Read more I came up with this combination as a weekday after work, something good in a hurry – What's in the kitchen moment. It's a healthy and surprisingly tasty dish.
Read more The fried gizzards at Junior Food Mart in Kaplan were legendary. Here's a copycat recipe for them!
Read more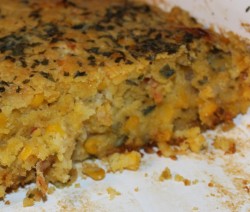 Mouth-watering Caj-Mex Cornbread that can be a meal in itself or as a side dish.
Read more Mawmaw tried this recipe from Jack Miller's website. It seems almost every child growing up and playing baseball grew up eating Jack Miller's Ball Park Hamburgers; that same sauce is used in this recipe.
Read more