Recipe Type:
Chicken No Cajun wedding reception is complete without a wonderful food, booze (drink responsibly), and the "Chicken Dance" song. While often placed firmly on the "do not play" list along with "YMCA" and the "Macarena," the song about flapping your wings like a silly bird still sneaks onto the set list ...
Read more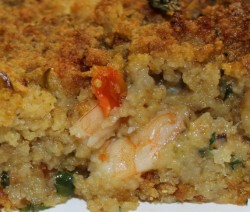 Enjoy this fun information on LA seafood: in a blind taste test, consumers chose Louisiana oysters over others sold in the US 85% of the time. Cajuns will chose it 100% of the time. Fried Oyster or Fried Shrimp compliment this dish. Ingredients1 stick butter 1 medium onion minced 3 ...
Read more Dirty Rice gets its name from the rice looking "dirty" after the dish is complete. The chicken giblets give this dish its unique flavor. Ingredients1/4 cup bacon fat 3 tbsp flour 2 medium onions chopped 1 large pod garlic pressed 1 medium bell pepper chopped 1 cup chopped celery 1/2 ...
Read more Giblets used in this recipe typically include the heart, gizzard, and liver. Ingredients1/2 cup bacon fat 3 tbsp flour 2 medium onions chopped 1 large garlic pod pressed 1 small bell pepper chopped 1 cup chopped celery 1 pound ground beef 1 pound ground pork 1 pound raw chicken giblets ...
Read more A mouthwatering gumbo deep from the heart of Acadiana swamp country. Seafood gumbo cooking at it's finest. Lump bayou crab meat and bayou hot shrimp with the fixins of Cajun vegetables and the secret of Brookie's bayou juice. Ingredients72 ounces shucked jumbo blue crab meat 6 pounds peeled & de-veined ...
Read more I came up with this combination as a weekday after work, something good in a hurry – What's in the kitchen moment. It's a healthy and surprisingly tasty dish. Ingredients4 medium frozen skinless chicken breasts 3 medium sweet potatoes peeled & diced in one inch cubes 2 tbsp extra virgin ...
Read more The fried gizzards at Junior Food Mart in Kaplan were legendary. Here's a copycat recipe for them! Ingredients1 1/2 pound chicken gizzards 1/2 cup more or less all-purpose flour 1 1/2 tbsp seasoning salt 1/4 tsp black pepper 1/4 tsp cayenne vegetable oil for fryingDirectionsStep 1Preheat enough vegetable oil to ...
Read more Gimme gimme cornbread dressing! Ingredients4 whole boneless skinless chicken breast 1 onion 1 bell pepper 2 ribs celery salt, red pepper & black pepper to taste 3 boxes Jiffy cornbread mix (follow directions when preparing) 3 eggs 2 slices of toast 1 cup cooked rice PaprikaDirectionsStep 1Put chicken, onions, bell ...
Read more