Recipes With Course:
Desserts Make your own pumpkin puree for this recipe – Preheat oven to 325 degrees F (165 degrees C). Pie pumpkins would be great to use  – Cut the pumpkin in half, removing the seeds and pulp. Place face down on a buttered or greased cookie sheet. Bake in the preheated oven ...
Read more There are as many ways to cooks bread pudding as there are Cajun Cooks – all are winners.
Read more The mystery ingredient – cream cheese – many will seldom guess for this pecan pie. – cream cheese.
Read more One of the more popular holiday favorites, great for parties, family dinners or gift giving.
Read more Bring back the memories – Old Fashioned School House Peanut Butter Balls
Read more Perfect for bundt cakes, coffee cakes, apple cake …did I mention cake?
Read more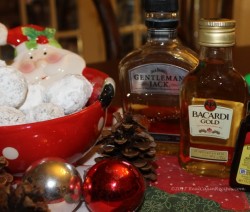 These bourbon rum balls have "Holidays and Let's get Together" written all over them.
Read more A nice twist to an angel food type cake – an old-school type of cake,
Read more