Recipes With Course:
Desserts Perfect for cakes and sweet dough tarts! Being from a large family, we loved when Momma made her German chocolate cake. The kids would fight to lick the spoon. Ingredients1 cup sugar1 block butter3 egg yolks 1 1/4 cup evaporated milk1 tsp vanilla ( I only use Big Chief) 1 ...
Read more A simple recipe for fig preserves. Ingredients1 gallon figs8 cups sugar1 cup waterDirectionsStep 1Cut the tips off the figs Step 2Wash a couple of timeStep 3Cook for two hoursStep 4Put in sterilized jarsStep 5Process in hot water bath for 15 minutes
Read more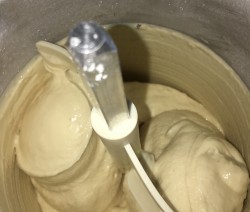 Perfect for Fourth of July Celebration. Did you know –  in the process is that the machine actually churns air into the ice cream base as it freezes the mixture. After the machine has stopped either serve the ice cream as soft serve or place in the freezer to completely ...
Read more Ingredients3 cups of fresh blackberries2 cups sugar separated1 cup flour1 egg1 stick butter melted (8 tablespoons)1 teaspoon vanilla1 teaspoon baking soda1 teaspoon baking powder1 teaspoon salt1 teaspoon vanillaDirectionsStep 1If using fresh, wash, drain and paper towel dry berries lightly.. Step 2In a bowl, add one cup of sugar to the ...
Read more Make your own pumpkin puree for this recipe – Preheat oven to 325 degrees F (165 degrees C). Pie pumpkins would be great to use  – Cut the pumpkin in half, removing the seeds and pulp. Place face down on a buttered or greased cookie sheet. Bake in the preheated oven ...
Read more There are as many ways to cooks bread pudding as there are Cajun Cooks – all are winners. Ingredients5 cups state bread pieces4 cups whole milk3 eggs well beaten2 cups sugar4 tablespoons butter1 cup coconut1 teaspoon vanillaDirectionsStep 1Place bread pieces in an 8x10 baking panStep 2In a large bowl combine ...
Read more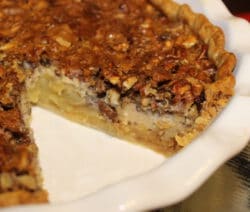 The mystery ingredient – cream cheese – many will seldom guess the surprise ingredient Ingredients1 - 9 inch pie crustCream Cheese Layer 1 8 ounce package cream cheese softened1 egg1 teaspoon vanilla1/3 cup sugar1/4 teaspoon saltSyrup Mixture3 eggs1/4 cup sugar1 cup Karo or light corn syrup1 teaspoon vanillaPecans1 1/2 cup ...
Read more