Recipes With Course:
Desserts Bring back the memories – Old Fashioned School House Peanut Butter Balls Ingredients1 (18 oz) jar peanut butter1 stick margarine or butter1/4 pound paraffin1 (1 pound) box confectioners sugar1 (12 oz) package chocolate chipsDirectionsStep 1Melt margarine and peanut butter over low heat; stir often. Step 2 Remove from heat and ...
Read more Perfect for bundt cakes, coffee cakes, apple cake …did I mention cake? Ingredients1/2 cup flour1/2 teaspoon cinnamon1/2 cup brown sugar4 tablespoon softened butter DirectionsStep 1For the crumb topping, mix the butter with flour, cinnamon, and brown sugar until crumbs form. Sprinkle crumbs on top of cake and bake cake according ...
Read more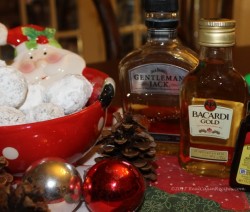 These bourbon rum balls have "Holidays and Let's get Together" written all over them. Ingredients2 cups finely ground gingersnap cookies2 cups finely ground graham crackers1 1/2 cups powdered sugar divided in half1 cup ground pecans1 cup flaked coconut1/2 cup raisins1 tablespoon grated orange rind3 tablespoon honey or corn syrup1/2 teaspoon ...
Read more A nice twist to an angel food type cake – an old-school type of cake, Ingredients2 sticks butter or margarine (8 tbsp)2 cups sugar6 eggs12 oz package vanilla wafers1/2 cups milk or carnation evaporated milk1 package 7oz angel coconut1 cup chopped pecansDirectionsStep 1Cream two sticks of butter or margarine with ...
Read more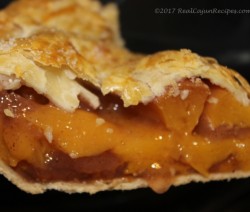 Pie consistency is perfect; Paw-Paw dubbed it the "perfect peach pie".     Firm peaches are recommended   Ingredients2 - 9 inch pastry pie crust egg white with 2 teaspoon water2 1/2 - 3 pounds medium size firm peaches sliced - 5 1/2 cupsJuice of one lemon or 3 tablespoons ...
Read more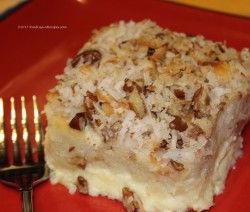 The first time I remember seeing this recipe was in a old Pillsbury Cook Off Pamphlet cookbook. The recipe was submitted by an expectant mother and she won the Cook Off that year. Recipe can easily be halved…Let your bread go stale just to make this!!   This is one of ...
Read more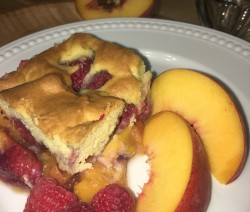 Fresh Peaches and Raspberries make up the base for this dessert, The topping is more like cake than biscuit. Ingredients6 medium ripe peaches2 cups fresh raspberries1/4 cup sugar1 cup all-purpose flour1 teaspoon baking soda1/4 teaspoon salt4 tablespoons butter softened1 1/3 cup sugar1 egg1/4 cup buttermilkDirectionsStep 1Sliced peaches and spread evenly ...
Read more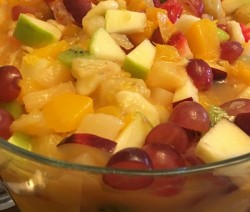 In memory of Triston Francis Bourque From Wikipedia – Fruit salad is a dish consisting of various kinds of fruit, sometimes served in a liquid, either in their own juices or a syrup. When served as an appetizer or as a dessert, a fruit salad is sometimes known as a fruit cocktail or fruit cup. In ...
Read more