Recipe Type:
Health Conscious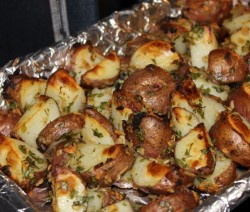 Red potatoes stay firm when cooking and are frequently referred to as new potatoes. Red potatoes which have medium to low starch hold their shape when boiled, baked or sliced. Which is why most Cajun use them to make their potato salads. Ingredients8 to 10 small red potatoes cut in ...
Read more
Our author cook writes: If you like a fresh radish or the taste of fresh grated mild horseradish, you will really like these pickled turnips. If you don't care for horse radish or radishes, you will like these anyway. You can make these turnip pickles as spicy as your taste ...
Read more Restaurant quality sauce to pour over your shrimp, crawfish and crab balls or your favorite tuna or salmon croquette. Ingredients1 cup skim milk, divided 1 tbsp cornstarch 2 tbsp calorie reduced margarine 1/8 tsp pepper 1/4 cup fresh parsley, chopped 1 1/2 tbsp lemon juiceDirectionsStep 1Combine 1/4 cup milk and ...
Read more Everyone knows Cajuns love their figs. Diabetes is unfortunately a problem in Cajun Country, therefore regular processed figs should not be eaten by a diabetic. This recipe will allow the Cajun to have his "figs" and eat them too! Ingredients4 cups figs or pears, cooked 2 tbsp lemon juice 1 ...
Read more With the high rate of diabetes in the Cajun population, this is the perfect recipe to keep enjoying your figs! Ingredientstree-ripened figs 1 tbsp canned lemon per quartDirectionsStep 1Use tree ripened figs. Sort and wash carefully. DO NOT use soda for cleaning. It can make figs unsafe when canned plain ...
Read more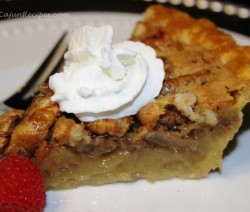 Diabetic or just avoiding sugar? Here's a delicious pecan pie you can enjoy….and the best part is it doesn't taste sugar free! The sugar free honey brand Is called Honey Tree (not really honey). It is found at the larger Wal-Marts or super centers. A visitor recommended "blind baking the ...
Read more The first time I ate this, a tear came to my eye — it was so unbelievably good. Once I found out it was reduced calorie/sugar, I served myself two more slices! It was made for the diabetic in my family but I personally favor this pie over regular pumpkin ...
Read more I discovered these about 2 1/2 weeks ago. I've made them 6 times already (and have been on vacation one week out of that time). For variety I cook them with different seasonings. We love them. Ms Chrissy likes them also. Great for diabetics or individuals on restricted diets. Ingredients4 ...
Read more