Recipe Type:
Health Conscious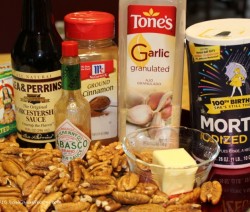 Pecans are popular in Cajun culture used in making the ever popular pralines, cakes and cookies. Here is another way to enjoy pecans with a little touch of hot! Ingredients3 tbsp butter or margarine 2 cups pecan halves 3 tbsp Worcestershire sauce 1/2 tsp salt 1/2 tsp cinnamon 1/4 tsp ...
Read more This South Beach friendly soft taco recipe is low carb and quick to make. This is a Nouveau Cajun dish for all you Cajuns following a low-carb lifestyle. Ingredients1 piece tasso 2 small low-carb wheat tortillas 1 cup cheddar, shredded 1 cup lettuce, shredded 1 tomato, cubed 1/2 purple onion, ...
Read more This South Beach friendly quesadilla recipe is low carb and quick to make. This is a Nouveau Cajun dish. All the locations, names and references are real however. Ingredients20 fresh Delcambre shrimp 2 handfuls cooked Kaplan Liberty Mill brown rice red and black pepper to taste garlic salt to taste ...
Read more For anyone doing Weight Watchers, one piece of this pie is only 4 points. I have made this with all the sugar free jello flavors I have found and they're all good. My family's two favorites are the strawberry & the lemon lime. Ingredients1 small package sugar free jello 1/2 ...
Read more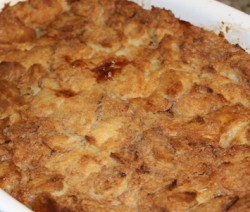 With the increase of diabetes (which unfortunately runs rampant in the Cajun culture), this recipe provides you a diabetic-friendly version of the dish you grew up loving. Ingredients2 cups skim milk 4 tbsp margarine, cut into pieces 1 egg 2 egg whites 2/3 cup Equal Spoonful or Splenda Sweetner 1 ...
Read more A low-carb alternative to potatoes! Remember, good-quality turnips will be very firm, smooth-skinned and heavy for their size. The coloring will be light-purple on the top, fading to bright-white at the bottom. Ingredients4 - 5 medium turnips Cooking spray (Pam or alternative) 2 tbps of mixed seasonings (salt, pepper, garlic ...
Read more After seeing Yves Vegetarian Ground Round at my local grocer, I realized it would be possible to make a rice dressing that both my vegetarian girlfriend and I could enjoy. This rice dressing tastes like the real thing. The "fake" ground round used in this is made of texturized soy. ...
Read more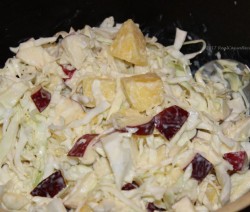 Simple, Good and Fast to prepare.   Ingredients1 small head of cabbage 1 large apple 2 cups mayonnaise 1 tsp sugar1 cup pineapple chunks (optional)DirectionsStep 1Finely shred the cabbage. Step 2Slice and dice the apples into small pieces. Step 3Mix all ingredients together, stir well and serve!
Read more