Recipe Type:
Slow Cooker This recipe is a tastier kick of your standard, simple Velveeta Cheese/Rotel mixture. Great for tailgate parties, football games, and graduation parties.
Read more There are three types of spinach available in U.S. supermarkets: savoy (curly leaf), flat (smooth leaf) and semi-savoy (slightly curly leaves). The savoy has dark green crinkly leaves while the flat variety matches its name. The spade-shaped leaves are flat leaves and have a milder taste than the savoy. The ...
Read more la baisse acadien de fromage is a great cheese dip. Fast and easy. Spicy, served with corn chips. Serve this at your next Super Bowl Party or someone's birthday party.
Read more I ate these this weekend at Holly Beach and it reminded me of being at the Vermilion Parish baseball parks playing softball and watching my brother pitch. Mom told me the secret to their burgers is the extra butter that's added and the Evangeline Maid buns. These burgers, like all ...
Read more One of my favorite foods. Great of Parties and weddings. Simple, fast and tasty!
Read more Several types of recipes use Cajun Stewed Tomatoes as one of their ingredients. I use the Rotel Brand tomatoes a majority of the time, which adds wonderful flavor to the majority of the Cajun dishes I prepare. But if you have time, this adds a really nice homemade touch and ...
Read more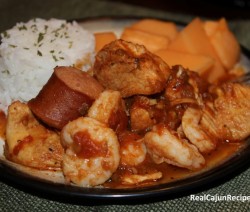 The Cajun-Creole version of paella, though more highly spiced. There are many different versions of jambalaya; in fact, the only consistent ingredients are rice, tomatoes, peppers, and onions.
Read more