Recipe Type:
Slow Cooker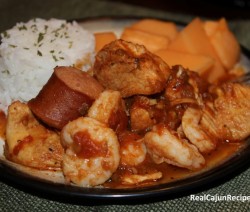 The Cajun-Creole version of paella, though more highly spiced. There are many different versions of jambalaya; in fact, the only consistent ingredients are rice, tomatoes, peppers, and onions. Ingredients12 ounces skinless chicken breast cut in 1 inch cubes 1 lb smoked sausage 2 bell peppers, chopped 1 onion, chopped 2 ...
Read more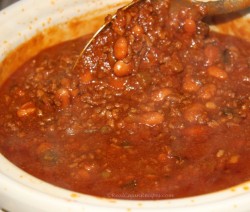 Chili always a favorite! Cooking slow and easy on the stove top or place in the slow cooker after browning the meat and basically forget about it.  It can be made with any combination of meats.such as beef, pork and venison. Ingredients5 tbsp Mexene chili powder 4 tbsp shortening 2 ...
Read more Working and fixing something for dinner can be a problem. Using the crock pot enables you to cook a hearty dinner without much fuss. Quick soak of the dried beans is recommended by many cooks or an overnight soak of the beans. For the quick soak –  Rinse and sort ...
Read more Ingredients1 head of cabbage, chopped 1 onion, chopped 1 bell pepper, chopped 2 cloves garlic, crushed or minced 1 lb smoked sausage, sliced 1 can rotel tomatoes or salsa 1 cup chicken broth, low fat and low sodium Salt and pepper to tasteDirectionsStep 1Place all ingredients into a crock pot, ...
Read more