Recipe Type:
Slow Cooker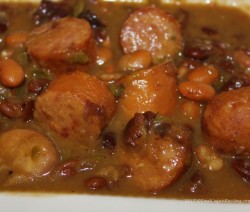 A Cajun Classic! The general consensus is to soak beans 8 to 10 hours before cooking noting however you cook beans without pre-soaking.Also sauteing veggies can be done and will enhance flavor. Ingredients1 pound dried red kidney beans 1 medium yellow onion diced 1 medium bell pepper diced 4 ribs ...
Read more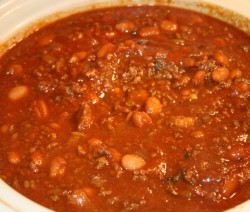 This chili is super easy to make and super good.. Ingredients5 pounds ground beef 1 tbsp McCormick Season All or Cajun Spice 1/4 cup oil for browning 1 package Cajun Trinity or 2 medium chopped onions, 1 stalk celery and 1 medium bell pepper 3 large 15oz cans Hunts Tomato ...
Read more A slow cooked roast in a crock pot, adding roux for a robust gravy; this recipe is not quick but the results make a great Po-Boy sandwich. Ingredients2 pounds or 3 pound rump roast 3 cloves garlic finely chopped 1 tsp oregano 1 tsp basil 1 tsp thyme 1 tsp ...
Read more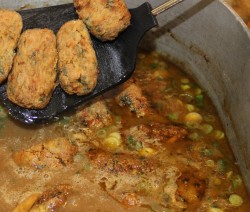 Get fo' or t'ree of y'all's people together; maybe your nonc or your parraine and Granmere' and f'sho your cher ami, especially if y'all make double or quadruple batches. Good company around the make-table makes the time go fast and the food taste better. This recipe quantity allows for freezing. If ...
Read more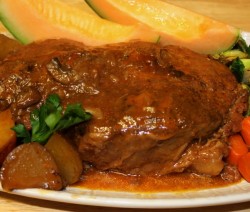 A dear friend of mine shared this recipe with me several years ago, and I have never cooked a roast any other way since. It is so tender it just falls apart. The original recipe called for 1/2 package Lipton Soup Mix – Maw-Maw likes the entire packet! Ingredients1 large ...
Read more This is a tasty and very easy recipe. Once you've had brisket this way you will never want to eat it any other way. Very flavorful! Ingredients1 beef brisket trimmed (5 or more lbs.) 1 bottle of Allegro marinade (Hickory Smoke Flavor)DirectionsStep 1Take your trimmed beef brisket and put in ...
Read more How nice to put the gumbo to cook in a crock pot before leaving for work or shopping and come home from work and have gumbo ready to eat. This gumbo can be served as a side to a main dish or can be the main dish! Ingredients3 tbsp flour ...
Read more My crockpot is being used more and more, I love how easy it is. Ingredients1 beef roast, any kind, sized to fit your crockpot 1/2 package Hidden Valley ranch dressing mix 1/2 package brown gravy mix 1/2 package Italian Dressing Mix 1/4 cup water (or more)DirectionsStep 1Place roast in crockpot. ...
Read more