Recipe Type:
Fish A great party dip to serve with crackers or chips. Ingredients2 pounds crawfish, chopped 1 can cream of mushroom 1 can cream of celery 1 can Rotel 1 stick butter 1 onion, finely chopped 1 bell pepper, finely choppedDirectionsStep 1Sauté the onion and bell pepper in butter until translucent. Step ...
Read more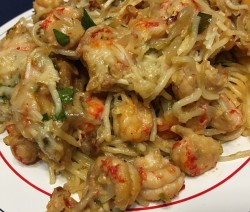 Angel hair pasta compliments this light, delicate sauce.  No crawfish – Use Shrimp Great Lenten Dish – Don't like Eggplant – No Problem – Leave it off Ingredients2 - 3 pounds crawfish (the more the better) 1 large onion 1 large bell pepper 1 stick butter 3 tbsp olive oil ...
Read more I made this recipe up off the top of my head one day. I guess I was bored. I am still trying different ways to cook it. You can add shrimp if you like and the recipe easily doubles. Play around with it. This is by far a healthy diet ...
Read more "This meal marries my two favorite cuisines: Cajun and Italian. Growing up in Eunice, LA, crawfish were plentiful and always anticipated during the fishing season." Ingredients1/2 stick butter or 1/4 cup margarine 1 to 1 1/2 cups heavy whipping cream 1 small yellow or white onion 1/2 medium to large ...
Read more Restaurant quality sauce to pour over your shrimp, crawfish and crab balls or your favorite tuna or salmon croquette. Ingredients1 cup skim milk, divided 1 tbsp cornstarch 2 tbsp calorie reduced margarine 1/8 tsp pepper 1/4 cup fresh parsley, chopped 1 1/2 tbsp lemon juiceDirectionsStep 1Combine 1/4 cup milk and ...
Read more Perfect sauce to put on steaks like Steak Diane, baked fish, flounder, fried fish or crab cakes and stuffed crab. Ingredients1/2 cup butter, divided (1 stick) 1/4 cup onion, chopped 1/4 cup celery, chopped 1/4 cup bell pepper 1 tbsp garlic, minced 2 tbsp dry white wine 1 pound crawfish ...
Read more A popular recipe request that many website visitors ask MawMaw to find. This recipe is guaranteed to make your mouth water and your family happy. Ingredients8 jumbo shrimp 1/4 cup fresh chives, chopped 1/4 cup garlic butter 1/4 pound crawfish tails, cooked 1/2 cup mushrooms, sliced 1/2 cup sour cream ...
Read more Almost like a catfish courtboullion, but this recipe takes a lot less time to prepare. Ingredients2 lbs catfish steaks or white firm meat fish 2 tbsp olive oil Guidry's Seasoning or Cajun Seasoning to taste parsley 1 (6 to 8 oz) can tomato soupDirectionsStep 1Place olive oil in bottom of ...
Read more