Recipe Type:
Fish A great party dip to serve with crackers or chips.
Read more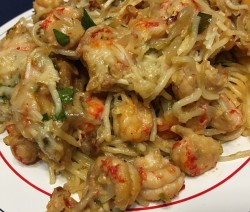 Angel hair pasta compliments this light, delicate sauce.  No crawfish – Use Shrimp Great Lenten Dish – Don't like Eggplant – No Problem – Leave it off
Read more I made this recipe up off the top of my head one day. I guess I was bored. I am still trying different ways to cook it. You can add shrimp if you like and the recipe easily doubles. Play around with it. This is by far a healthy diet ...
Read more "This meal marries my two favorite cuisines: Cajun and Italian. Growing up in Eunice, LA, crawfish were plentiful and always anticipated during the fishing season."
Read more Restaurant quality sauce to pour over your shrimp, crawfish and crab balls or your favorite tuna or salmon croquette.
Read more Perfect sauce to put on steaks like Steak Diane, baked fish, flounder, fried fish or crab cakes and stuffed crab.
Read more A popular recipe request that many website visitors ask MawMaw to find. This recipe is guaranteed to make your mouth water and your family happy.
Read more Almost like a catfish courtboullion, but this recipe takes a lot less time to prepare.
Read more