Recipe Type:
Fish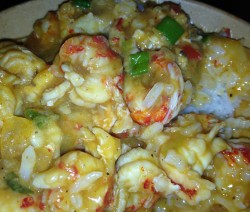 Miss Ollie had been in our household for a long time. She was one of the best cooks around. Our family loved when she prepared this étouffée. Ingredients2 pods of garlic, chopped fine 2 cups onions, chopped fine 2 cups celery, (no strings) chopped fine 1 bell pepper, chopped fine ...
Read more A wonderful, rich and thick hot chowder for those chilly nights. And who can pass up a good crawfish dish? Ingredients1 pound crawfish tails, peeled 12 oz bacon 2 cups potatoes, diced 1 cup onions, diced 2 (16 oz) cans cream style corn 2 pints Half & Half (or whipping ...
Read more While this Cajun lady was living in Corpus Christi, Texas, I was challenged to cook up a Mexican dish with crawfish for a potluck dinner. Everyone thought it was a winner. Editor's note – Shrimp can be used instead of crawfish. Ingredients1/2 cup butter 2 cups onion, chopped 1 cup ...
Read more Cajuns love their seafood. This "soup for the Cajun soul" can be made with crab, shrimp, crawfish, all three or in combination with each other. Experiment with the mixtures of the seafood available in your area. Ingredients1 block margarine or butter (8 tbsp) 1 cup onions, finely chopped 1/2 medium ...
Read more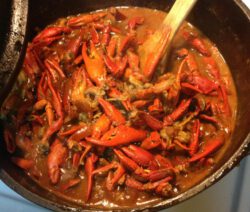 Sauce Piquant – A hot spicy stew made with tomato paste or sauce, roux and most any meat available. The most popular is seafood, fish, chicken, turtle or alligator sauce piquant. As the recipe implies though, use whatever you want!!! Ingredients1 pound crawfish (you can also use shrimp, crabmeat, or ...
Read more Shayne writes, "Hey MawMaw. I'm seeing a lot of courtbouillon recipes, but all of them are tomato based. Coming from a long line of Cajuns from Gueydan, Delcambre, Erath, Lake Charles, Choupique, and New Iberia, etc.. I believe a true courtbouillon is a clear/white based gravy and not tomato based. ...
Read more One of my favorite memories growing up in my mother's kitchen smelled this pie bake! It was an easy and quick dish to make and is better the next day after all the seasonings set in. If you have biscuit mix and tuna fish on hand, you can whip up ...
Read more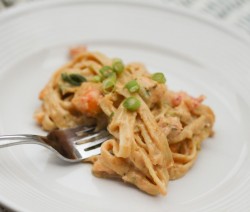 Fettuccine d'écrevisse – One of our more popular classics. Shrimp could be used instead of the crawfish or combined with crawfish along with crab meat. Ingredients2 medium onions 2 medium bell peppers, chopped 2 sticks butter or margarine 3 tbsp flour 2 tbsp parsley 2 cloves of garlic 3/4 pound ...
Read more