Recipe Type:
Crab To get this recipe, I had to beg and rely on a memory! Kaplan's finest and some older softball players, the Jr Bucs and Lady Bucs, recently reunited. This pasta dish was one of the the "hits" of this baseball reunion. The cleats and gloves that had been hung up ...
Read more As many times as I brought my children crabbing at Rockefeller Refuge, Holly Beach, and road side ditches, all I really saw was the crab walking. That makes them easier to catch for this stuffing.
Read more A popular recipe request that many website visitors ask MawMaw to find. This recipe is guaranteed to make your mouth water and your family happy.
Read more This recipe was entered in the international rice festival by a friend, Mrs. Shirley Griffin. She won top honors, Chef de Riz (Rice Chef), with it! Living in the heart of rice and Cajun country, where fresh seafood is readily available, this is the perfect recipe to cook on special ...
Read more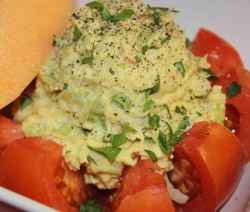 Most Cajuns follow the tradition of not eating meat on Friday during the Lenten season. This recipe would be great for Lent. Donald writes, "Dakota is the great-grandson of Isadore Delcambre, This is 8 yr-old Dakota's, 1st easy to make lunch recipe. This salad should be served on your favorite ...
Read more Great easy dish for any family gathering or party.
Read more One of the more popular classic Cajun soups made easy; this one will really "hit the spot". This recipe is dedicated to Howard Menard.
Read more Cajuns love their seafood. This "soup for the Cajun soul" can be made with crab, shrimp, crawfish, all three or in combination with each other. Experiment with the mixtures of the seafood available in your area.
Read more