Recipe Type:
Shrimp A great dinner addition (even for those who don't love Broccoli). Ingredients1 deep dish pie shell 3 ounces grated Mozzarella cheese 3 ounces sliced Mozzarella cheese 1 lb ground beef chuck or turkey OR shrimp and/or crab meat 1 (4 oz) can of mushrooms 4 ounces soft cream cheese 1 ...
Read more There are over 2,000 different species of shrimp worldwide and there are probably just as many ways to prepare shrimp dip. This is almost always served at weddings and parties. This recipe will easily serve 60 guests. Ingredients2 lbs peeled shrimp, cut into very tiny pieces 2 sticks butter 2 ...
Read more Eggplant was a classic staple in Cajun Country. This recipe came into fashion when crawfish also became a staple. Shrimp substitued for Crawfish is hard to beat; shrimp compliments the taste of eggplant so well. Ingredients3 medium eggplants, peeled and quartered 1 1/2 cup chopped onions 1 cup green bell ...
Read more This noodle seafood casserole is flavorful and easy; a great presentation for guests. Ingredients2 lbs crawfish or shrimp 2 sticks margarine or butter 3 onions, chopped 2 bell peppers, chopped 3 stalks of celery, chopped 3 garlic cloves, minced fine 4 tbsp parsley, chopped fine 1/4 cup flour 1 pint ...
Read more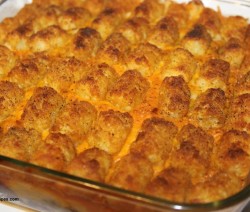 A quick, easy and satisfying dish sure to satisfy even the most hungry of children. The tater tots can be placed and baked on top of the casserole or directly in the casserole. For variety crawfish or shrimp could be added to the dish. Ingredients1 package frozen tater tots / ...
Read more A popular favorite for Homecoming Teas and Party functions. Ingredients2 packages (3 oz) size cream cheese 3 tbsp chili sauce 1 can shrimp drained 1/3 cup mayonnaise 1/2 tsp onion juice 1/4 tsp Worcestershire sauce dash of Tabasco sauce lemon juice to suit taste (about 1 tablespoon)DirectionsStep 1Combine the softened ...
Read more This can be an appetizer or entree. Ingredients1 lb shrimp raw 1 stick butter 3 tbsp onions, chopped fine 1/2 tsp dry mustard Dash of cayenne or red pepper 6 tbsp flour 1 cup milk 1 tbsp sherry 1 cup cracker crumbs Salt and black pepper to tasteDirectionsStep 1Peel and ...
Read more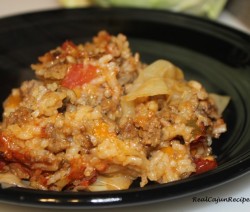 Another great "If you like cabbage" recipe.This casserole is an entire meal in one with rice, meat and vegetables.. It also reheats well if you want to make it a day ahead to bring to a gathering. For a great taste variation, add one pound crawfish or shrimp or two ...
Read more