Recipe Type:
Shrimp Not only is it awesome, it's fast and easy. Ingredients2 pounds peeled crawfish tails or shrimp 1 can cream of mushroom soup 1 can French onion soup 1 can Rotel Tomatoes w/mild chilies 1 stick butter 1 cup cooked rice 1 cup grated Monterey Jack Cheese Garlic to tasteDirectionsStep 1Note ...
Read more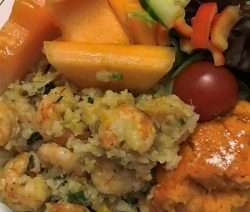 A great and easy way to prepare a classic dish right in your rice cooker! Ingredients1 lb peeled shrimp, chopped 1 pint oysters (liquid drained) 1 (6 oz) can crab meat or 1/2 cup fresh 3/4 (10 oz) can Campbell's beef broth 1/2 stick (4tbsp) butter 1 onion, chopped fine ...
Read more The measurement for can is correct. Use the shrimp can for the measurements noted. Ingredients2 cans small shrimp, drained 2 cans celery, finely chopped 2 cans chives or onion tops, finely chopped 2 cans mayonnaise 2 tbsp mustard Red pepper, to taste Tony Chachere's Cajun seasoning, to taste Tabasco or ...
Read more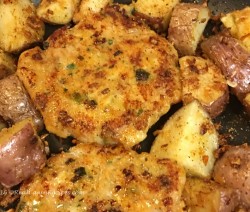 Shrimp patties are a traditional Cajun favorite. Ingredients1 lb shrimp raw 1 large green pepper 1 large raw red potato Garlic powder to taste 3 tbsp Italian bread crumbs Dash of salt, black pepper and red pepper 1 eggDirectionsStep 1Chop the shrimp, green pepper, potato, and onion in a food ...
Read more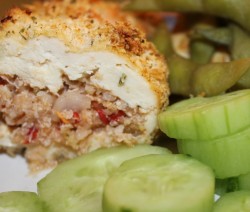 This is an easy meal to prepare. You can make this more heart healthy by baking in the oven instead of cooking it in oil. Ingredients1/2 cup onion, chopped fine 1/4 cup celery, finely chopped (or substitute celery salt and dried celery leaves to taste) 1/4 cup bell pepper chopped ...
Read more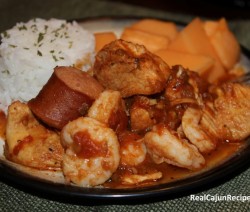 The Cajun-Creole version of paella, though more highly spiced. There are many different versions of jambalaya; in fact, the only consistent ingredients are rice, tomatoes, peppers, and onions. Ingredients12 ounces skinless chicken breast cut in 1 inch cubes 1 lb smoked sausage 2 bell peppers, chopped 1 onion, chopped 2 ...
Read more Ingredients1/2 lb shrimp, peeled 1/2 cup onion, chopped fine 1 (5 oz) can of crab meat or lobster 1 tsp tomato paste 1/2 cup breadcrumbs 1/2 cup celery 1/2 stick margarine or butter 1 cup cooked rice 8 bell peppers (medium)DirectionsStep 1Prepare the bell peppers: Cut the tops off the ...
Read more Ingredients4 cooked eggplants, chopped 1 stick margarine 1 onion, chopped 1 bell pepper, chopped 1 celery stalk, chopped 1 (10 oz) can cream of mushroom soup 1 1/2 cups cooked rice 1 cup shrimp (optional)DirectionsStep 1Sauté onions, celery, and bell pepper in margarine until wilted. Step 2 Add eggplants and ...
Read more