Recipe Type:
Shrimp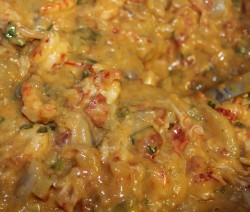 This is actually our go-to etouffee recipe, even though it contains no butter or crawfish fat. The flavors are really incredible and have been known to prompt marriage proposals (no kidding, just ask Shauna Chauvin Richard!) Ingredients1 lb crawfish tails or shrimp, peeled and cleaned 1 onion, chopped 1 bell ...
Read more Recipe dates back 30 years. An old time favorite that's enjoyed still. This is a very versatile dish and you can replace the shrimp with crawfish or crab meat. Ingredients1 stick margarine 2 celery stalks chopped 1 1/2 cup chopped onion 1/4 cup cracker crumbs 1 large bell pepper chopped ...
Read more During summer when eggplants were plentiful and shrimp were to be had, Momma would make this simple eggplant dressing. Cooking for 9 children always kept Momma busy. Ingredients2 large eggplants 1 large onion, chopped 3 cups cooked rice 1 bell pepper, chopped 1/2 cup parsley, chopped 2 tbsp oil 1/2 ...
Read more Since seafood is plentiful in the South, one of the more popular dishes is shrimp stew. With some of our Cajun slang, shrimp is sometimes pronounced "shramp". Either way you say it, it is still good. Boiled, peeled eggs are often added to this recipe. Ingredients3/4 cup flour 1/2 cup ...
Read more You could leave off the shrimp and it would still be great. Ingredients1 lb ground beef 1 lb ground pork 3 lbs shrimp, peeled and deveined 1 large onion and bell pepper, chopped 3 celery stalks, chopped 1 cup each green onions and parsley 2 tsp garlic powder 1 tbsp ...
Read more Ingredients2 lbs shrimp, peeled and deveined 1 cup all-purpose flour 1 cup oil 1 gallon water Tony Cachere's SeasoningDirectionsStep 1First, make the roux. Put the oil and flour in a heavy pot. Cook on medium heat, stirring constantly until roux is color of dark peanut butter. This step can take ...
Read more Quick and easy Cajun Dish. Cooked in one easy step right in your rice cooker. Ingredients1 lb Shrimp or Crawfish 1 medium onion, chopped 1 bell pepper, chopped 1 small bunch each green onion tops & parsley 1 1/2 cups washed rice 1 ½ cups water 1 (14 oz) can ...
Read more A favorite cracker dip found at many Cajun weddings and parties. Ingredients2 ounces package of cream cheese 2 cups shrimp, boiled and chopped small 1/4 cup each: bell pepper, onion, dill pickle, and celery 1 cup mayonnaise Dash of lemon juice Garlic powder, salt and pepper to tasteDirectionsStep 1Mix cream ...
Read more