Recipe Type:
Shrimp Recipe dates back 30 years. An old time favorite that's enjoyed still. This is a very versatile dish and you can replace the shrimp with crawfish or crab meat.
Read more During summer when eggplants were plentiful and shrimp were to be had, Momma would make this simple eggplant dressing. Cooking for 9 children always kept Momma busy.
Read more Since seafood is plentiful in the South, one of the more popular dishes is shrimp stew. With some of our Cajun slang, shrimp is sometimes pronounced "shramp". Either way you say it, it is still good. Boiled, peeled eggs are often added to this recipe.
Read more Quick and easy Cajun Dish. Cooked in one easy step right in your rice cooker.
Read more A favorite cracker dip found at many Cajun weddings and parties.
Read more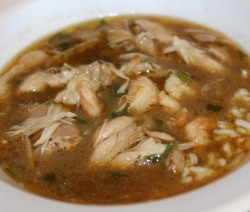 A true Cajun classic. The original recipe had 2 tbsp vegetable oil and 2 tbsp flour and  quarts of water. At the end of the cooking cycle right before being served, the powdered file was added and the cook would dip the ladle in and out of the gumbo aerating the broth; ...
Read more