Recipe Type:
Shrimp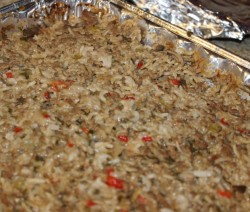 Also known as "Louisiana Dirty Rice", this dish is a true Cajun classic. There are many ways to make this dish, and this is one way from a friend of mine. Ingredients1 lb ground meat, browned 1 cup raw rice 1 (10 oz) can cream of chicken soup 1 can ...
Read more Ingredients1 tbsp low fat margarine 2 shallots or 1 small onion, finely chopped 3-4 cloves garlic, finely minced 1/2 cup low fat evaporated milk 1/2 cup low sodium, low fat chicken broth 1/4 cup parmesan cheese, grated 1/4 cup mild cheddar, shredded 1/2 to 1 lb crawfish (can be substituted ...
Read more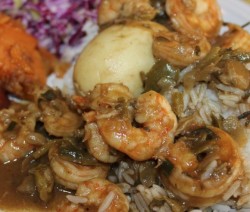 This was a Lent meal when I was growing up, now we have it anytime. This is the basic brown stew gravy, so you can make this dish with any seafood or meat. Meatball stew or pork stew can also be made from this basic recipe. Boiled eggs are also ...
Read more Ingredients2 large eggplants, peeled & cubed 1 1/2 lbs ground meat 4 cups shrimp, peeled and deveined 1 large onion, chopped 3 beef bouillon cubes 1 small bell pepper, chopped 1/2 cup parsley, chopped fine 3 slices of toasted bread, crumbled Salt and black pepper to taste Red pepper to ...
Read more Ingredients4 tbsp butter 1 small onion, chopped 1/2 cup celery, finely diced 1 lb raw shrimp, chopped 2 tbsp flour 1 quart milk 1 1/2 tsp salt 1/2 tsp tabasco sauce 1/4 tbsp paprika 2 tsp lemon juiceDirectionsStep 1In large saucepan melt butter. Add onion and celery. Cook until onion ...
Read more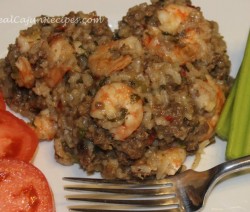 This is one of the best oven recipes for rice dressing. It's a foolproof dish with Cajun flavor. Ingredients1 lb to 1 1/2 lb ground beef (chuck preferred) 1 (10 oz) can cream of mushroom soup - undiluted 1 (101/2 oz) can French onion soup 1 (6 oz) can mushroom ...
Read more A Party Dip – great for family gatherings or weddings. Ingredients1 cup chopped onions 1/2 cup chopped celery 1/2 cup chopped bell pepper 2/3 cup chopped green onion tops 2/3 cup parsley 1 (4 oz) jar pimentos 2 tsp butter or margarine 2 to 3 lbs crawfish or shrimp 2 ...
Read more Ingredients Ingredients1 lb shrimp 1 (4 oz) jar of artichoke hearts, drained and chopped 4 ounces mushrooms, chopped 1 onion, chopped very fine 1 bottle Catalina French Dressing Salt and pepper to taste Garlic powder to taste Dash of Worcestershire sauceDirectionsStep 1Peel, clean and boil shrimp. Salt shrimp to your ...
Read more