Recipe Type:
Shrimp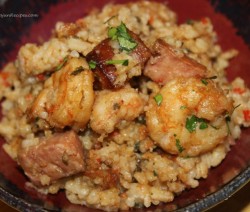 This is an easy dish to prepare directly in your rice cooker. Tastes like it took all day to prepare. Sausage maybe added to the dish. Ingredients2 cups rice, uncooked 1 can beef broth 1 onion, chopped fine 1 bell pepper, chopped 1 (4 oz) can mushrooms 1 can broth ...
Read more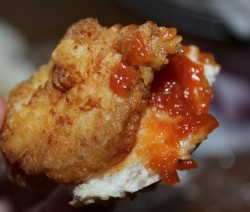 Ingredients2 lbs shrimp (cleaned and deveined) 1 tsp Tony Chachere's Cajun Seasonings 1 tbsp sugar 1 egg 1 cup flour 1 cup of crushed ice and waterDirectionsStep 1Prepare the batter several hours before frying. Put the flour, sugar, seasonings, and egg in a 2 quart bowl. Step 2Fill a 1 ...
Read more Leftover rice? Hungry for a seafood dish? This is a great dish for both those needs. Ingredients1/4 cup green onions, chopped 1/2 cup onions, diced 1/2 stick butter or margarine 1/2 can Rotel tomatoes 1 can cream of mushroom soup 1 can small shrimp or crabmeat or both 2 cups ...
Read more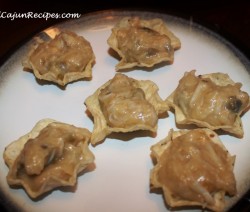 An easy classic dip great for parties and weddings. Ingredients2 lbs Crab, Crawfish or Shrimp 1/2 stick butter 1 bunch celery, chopped 1-2 onions, chopped 3 (10 oz) cans golden mushroom soup 1 bell pepper, choppedDirectionsStep 1Sauté onion, bell pepper and celery in the butter. Step 2Once soft, add the ...
Read more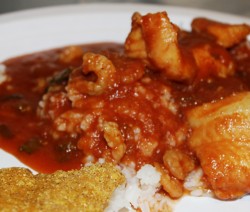 This classic dish was inspired by a wonderful restaurant in Lake Charles, Louisiana; Paw Paw's Seafood and Steak House. They were always more than happy to share their famous courtbouillon recipe; although this restaurant has now closed, their recipe lives on. Ingredients4 pounds dressed cut-up catfish 1/2 cup vegetable oil ...
Read more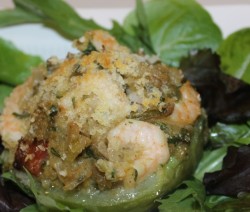 The popular mirliton (or vegetable pear, as it's called) was often used to make seasoned pickles. This transition dish makes you appreciate mirlitons even more. Ingredients4 large mirlitons 1/2 cup diced onions 1/4 cup celery 3 tbsp cooking oil 1/2 cup seasoned bread crumbs 1 1/2 tsp seasoned salt 1 ...
Read more Not only is it awesome, it's fast and easy. Ingredients2 pounds peeled crawfish tails or shrimp 1 can cream of mushroom soup 1 can French onion soup 1 can Rotel Tomatoes w/mild chilies 1 stick butter 1 cup cooked rice 1 cup grated Monterey Jack Cheese Garlic to tasteDirectionsStep 1Note ...
Read more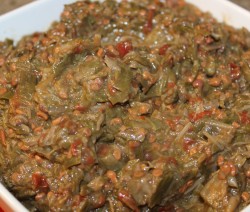 This is a classic way of cooking okra that allows you to use okra (la gombo fevi)  as a side dish or make the ever popular shrimp and okra gumbo. Ingredients3 pounds fresh or frozen okra 3 tbsp canola oil 1 cup chopped onion or 1 large onion 1 cup ...
Read more