Recipe Type:
Shrimp Perfect when you don't have much time and need a quick, healthy meal. This recipe is especially fitting for the diabetic in your family or person who can't handle lots of spice. Ingredients1 package instant brown rice or 2 cups regular cooked rice 1 large onion 1 large green pepper ...
Read more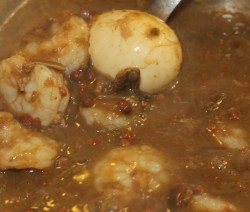 Most people now realize that okra and the word "gombo," which means okra in some parts of Africa, mean the same thing. Not to be confused with the soupy gumbo that Cajuns have become well known for. So this means that you can make a gumbo of gombo. Have you ...
Read more Making a good thing better and faster. Quick and easy dish. Very flavorful! Ingredients4 large bell peppers 1 (11 oz) can tomato soup 1 (11 oz) can golden mushroom soup 1 (4 oz) can mushrooms, drained 1/2 lb shrimp 1/2 lb scallops 1 (6 oz) container of crabmeat 1 1/2 ...
Read more This dish is sure to please any seafood lover. Using canned soups makes this dish is fast and still extremely tasty. This quick dish is impressive enough for company yet easy enough for a weeknight meal. Ingredients1 tbsp butter or margarine 2 stalks of celery, chopped 1/4 cup chopped green ...
Read more A rich, creamy delectable chowder. A must have comfort food on cold winter evenings. Add a salad and some crusty French bread and you have a meal. Chowders can be made with virtually any seafood. Ingredients1/2 stick margarine 1 cup chopped onions 1 (15 oz) can cream style corn 1 ...
Read more Boudin, one of the more popular Cajun delicacies, can be purchased from just about every supermarket, convenience store and restaurant, is basically a rice dressing stuffed in casing. Take your favorite meat (most popular are pork, crawfish and shrimp), add seasonings and rice, stuff it all in a sausage, add ...
Read more If you are looking for an easy, fast and delicious dip to make for a party and you like artichokes, this is your recipe. You and your guests will love it. I started making this recipe 32 years ago and it's still one of my favorites. Ingredients1 lb shrimp 1 ...
Read more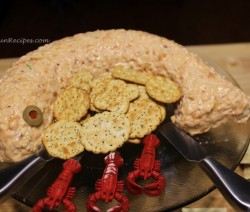 Outside of crawfish, shrimp is the most popular shellfish in Cajun dishes. Most of our shrimp come from Gulf waters and are used to make this delicious shrimp mold popular at Cajun Weddings and Holiday parties. The pretty salmon color of this dish lends a nice touch to decorating the ...
Read more