Recipe Type:
Shrimp Ingredients1 cup celery, chopped fine 1 cup chopped bell pepper 1 cup onion, chopped fine 1 (4 oz) jar chopped pimento, drained 3/4 cup salad dressing 1 1/2 tbsp mustard 1/4 cup pickle relish 3 to 4 boiled eggs, chopped 2 lbs cooked shrimp or crawfish, cut in halvesDirectionsStep 1Mix ...
Read more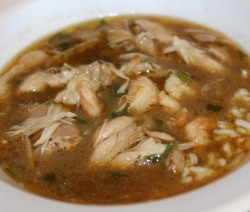 A true Cajun classic. The original recipe had 2 tbsp vegetable oil and 2 tbsp flour and  quarts of water. At the end of the cooking cycle right before being served, the powdered file was added and the cook would dip the ladle in and out of the gumbo aerating the broth; ...
Read more My mother's recipe. Ingredients2 lbs Shrimp 2 cups crab meat 1 cup onions chopped 1 cup celery chopped 1 bell pepper 1 clove garlic 1 cup water 3 (15 oz) cans tomato sauce 1 (10 oz) can Rotel tomato 1 1/2 sticks butter Dollop of ketchup Salt to tasteDirectionsStep 1Sauté ...
Read more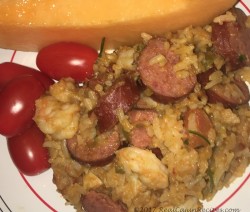 Jambalaya a mish-mash of rice, meat an/or seafood. Quick and easy way to make a one-pot meal. Add a green salad and garlic bread for a complete dinner. Use fresh or dried shrimp Ingredients1 onion, chopped 1 bell pepper, chopped 3 chicken breast, in chunks 1 package smoked sausage, cut in ...
Read more