Recipe Type:
Shortcuts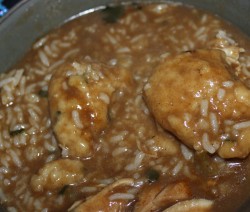 I like to spoil my grandchildren; I knew this was my granddaughter's favorite dish so I would cook it for her when she came. Here is a secret that neither she nor my daughter knows. Well you see neither of them like celery and some of my other grandchildren do ...
Read more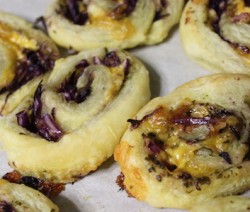 This Noveau Cajun selection is going to make you say "throw me one Mister so I can try it!" It bakes up perfect and the taste is worth trading your Mardi Beads for. The color of this appetizer blends in perfect with Mardi Gras theme colors. The ease of preparation ...
Read more With an ever increasing interest in the reduction of excess fat in our daily diets, the Cajuns are no exception. This recipe (Original, cooked in Hitachi rice cooker) has been modified to reduce the fat content; both the modified versions of cooking in a rice cooker and stovetop are shown. ...
Read more I tested this recipe on friends for the holidays and they loved it. I have been asked repeatedly for this recipe. For a busy woman, this recipe is not only quick to put together, but it also taste great. Ingredients1 box butter pecan cake mix 1 container Coconut Pecan Frosting ...
Read more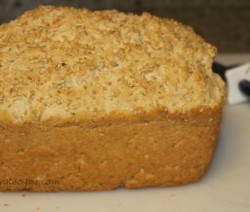 This bread is quick and easy to do!  Serve it once and you will end up baking it again by request. This bread recipe is a winner. MawMaw likes Fat Tire beer, some like wheat beer, choice is yours! Turn the taste around -Toasted sesame seeds and cranberries can be added to ...
Read more I am 11 years old and love to bake. I made these for Christmas for my Daddy who is in the Air Force. These are quick and fun to make! Ingredients1 bag waffle cut pretzels 1 bag Rolo Candies Pecan halves for toppingDirectionsStep 1Unwrap candies and place each on a ...
Read more The first time I ate this, a tear came to my eye — it was so unbelievably good. Once I found out it was reduced calorie/sugar, I served myself two more slices! It was made for the diabetic in my family but I personally favor this pie over regular pumpkin ...
Read more A fast and easy rich delicious meal all in one. Greens, meat, dairy all in one meal without needing side dishes. Enjoy! Ingredients8 ounces thickly sliced deli ham, coarsely chopped 1/3 cup chopped onion 1/2 cup finely chopped carrot 1 1/2 cup 6 oz shredded Swiss cheese, divided or a ...
Read more