Recipe Type:
Shortcuts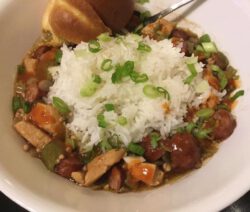 A faster way to make roux. Roux is the foundation for many Cajun dishes. For gumbo, stews, fricassees, or as the old joke goes, you want to make a chocolate cake in Cajun land… first you make a roux. Ingredients1 cup flour 3/4 cup oil (Canola or Vegetable)DirectionsStep 1Combine oil ...
Read more A rich, creamy delectable chowder. A must have comfort food on cold winter evenings. Add a salad and some crusty French bread and you have a meal. Chowders can be made with virtually any seafood. Ingredients1/2 stick margarine 1 cup chopped onions 1 (15 oz) can cream style corn 1 ...
Read more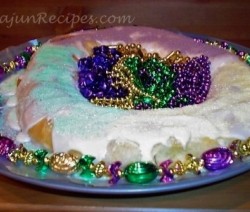 This is a quicker version of this traditional cake. It's a great recipe to celebrate the Mardi Gras Season with the little ones. Let them make and decorate their own King Cake. In the U.S., a little plastic baby doll is usually inside of the cake. Whoever gets the piece ...
Read more This recipe was a special request as it was needed for a class reunion. This drink packs a powerful punch. Drink Responsibly! Ingredients2 gallons Hawaiian Punch 1 litre grain alcohol 1 cup sugar 1 orange, sliced 1 banana, slicedDirectionsStep 1Leaving the rind on the oranges, mix all ingredients in a ...
Read more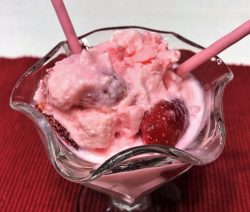 A cool and sweet treat perfect for summer days. My children and guests love it when I serve this at our summer parties. Ingredients2 (14 oz) cans condensed milk 2 quarts milk 2 packages frozen strawberries 8 strawberry sodasDirectionsStep 1If strawberries are whole or halves, cut in piecesStep 2Mix all ...
Read more A quick, easy and delicious cake. Ingredients5 - 6 Granny Smith Apples 1/2 box dry yellow cake mix 1/2 cup of cinnamon and sugar mixed together 1 stick butterDirectionsStep 1Peel and slice the apples about a 1/2 inch thick. Step 2 Spray a pie dish lightly with Pam. Line the ...
Read more Yummy take on traditional cake; great for children's parties. You can also use leftover cake to make this recipe (it doesn't have to be German Chocolate). IngredientsGerman Chocolate cake 2 (12 oz) bags semi-sweet chocolate chip 1 block gulf waxDirectionsStep 1I know that you've been dying to do this. Take ...
Read more I had forgotten about this old favorite recipe. When my children were younger this was a fast great for holiday candy. The shoestring potatoes give this candy its haystack effect. They are also known as Easy Chocolate Drops or Chip Stick Peanut Candy. Another reader writes: These candies are great ...
Read more