Recipe Type:
Shortcuts A classic made easy. Ingredients1 banana sliced 1 graham cracker pie crust 2 cups cold milk 2 packages Jell-O vanilla instant pudding 2 cups Cool WhipDirectionsStep 1Place sliced bananas in crust. Pour milk in bowl, then add pudding. Beat with wire whisk for 2 minutes. Gently stir in one cup ...
Read more Dem Cajuns gotta watch what they eat sometimes. So dey have to do like everybody else and try dat Atkins. This dish is very Atkins friendly at 5 net grams of carbs per serving and is very filling. Ingredients10 ounces frozen chopped broccoli 4 cups cooked chicken 1 can condensed ...
Read more I have made this recipe many times for Christmas gifts…you know the one you want to buy them something but don't know what and don't want to spend too much money. One recipe make 2 -12 oz. jar. You can also put it in smaller jars. Just buy a pretty ...
Read more Using new products and incorporating old spices together, this dish makes a wonderful addition to the Cajun's recipe book. Ingredients1 cup Portobello mushrooms chopped 1 cup button mushrooms chopped 1/4 cup cream cheese 2 tbsp butter 1 sheet phyllo pastry 1/2 tsp salt 1/2 tsp black pepper 1/4 tsp cayenne ...
Read more A great Christmas and holiday punch. Drink Responsibly. Ingredients1 litre Amaretto 2 (12 oz) can frozen orange juice 2 (12 oz) can frozen lemonade 8 cups water 1/2 cup sugarDirectionsStep 1Mix together the Amaretto, orange juice and lemonade. Boil together 8 cups of water and the 1/2 cup sugar making ...
Read more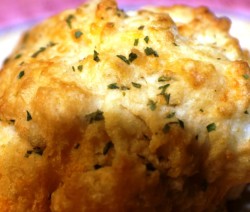 I made these for my children and served them with beef roast. They are so wonderful tasting. The garlic salt and butter is the recipe to these great biscuits. Ingredients2 cups biscuit mix 1/2 tsp dry mustard 1/4 tsp cayenne pepper 6 tbsp butter flavored shortening 1 cup sharp cheddar ...
Read more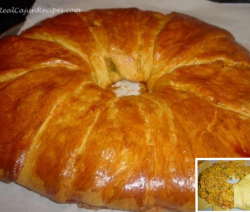 The author is a great Cajun cook and is always conjuring up recipes. Although, she has more choices, she mixes a lil of this and a lil of that just like our mothers and grandmothers did. Ingredients3 cans crescent rolls or puff pastry, cut in triangle crescent size 1 onion, ...
Read more This recipe is so easy to make, I usually let my children and step-children make it. My best friend said what she does is melt the butter and mix it with the cake mix along with 2 tablespoons of the filling and then pours it over the fruit mixture. Ingredients1 ...
Read more