Red Lobster Biscuits II
2004-10-21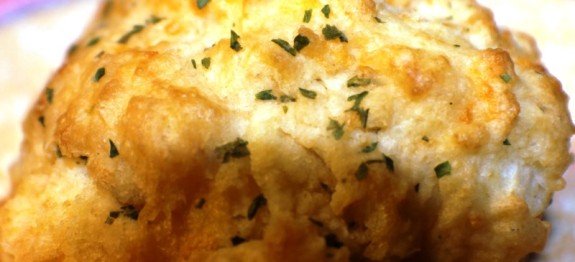 Yield :

14

Servings :

14

Prep Time :

15m

Cook Time :

15m

Ready In :

30m
I made these for my children and served them with beef roast. They are so wonderful tasting. The garlic salt and butter is the recipe to these great biscuits.
Ingredients
2 cups biscuit mix
1/2 tsp dry mustard
1/4 tsp cayenne pepper
6 tbsp butter flavored shortening
1 cup sharp cheddar cheese, grated
1 cup milk
1/2 cup melted butter
1/4 tsp garlic salt
Directions
Step 1
Preheat the oven to 425 degrees. Stir together in a medium bowl, biscuit mix, dry mustard and cayenne pepper. Cut in the shortening. Mix in the cheese and water. Stir till just moistened. Do not over mix.
Step 2
Turn out onto a floured board or floured parchment paper and fold over twice.
Step 3
Roll out the dough into a 1/2 inch thick piece.
Step 4
Using a floured biscuit cutter or glass, cut the biscuits to 2 1/2 inch size. Place the biscuits in a greased baking pan.
Step 5
Bake in the hot oven for 15 - 17 minutes. Brush tops with butter (and 1/2 tsp parsley) and garlic salt before removing from the cookie sheet. Parsley flakes optional.