Recipe Type:
Shortcuts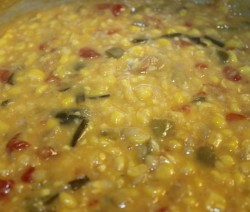 There are those times when we simply do not have enough time to prepare our tasty Cajun dishes. So every once in a while we can be allowed shortcuts! After all most of us do not have to plant our own corn anymore. Delicious mockshoo without the fuss; you can ...
Read more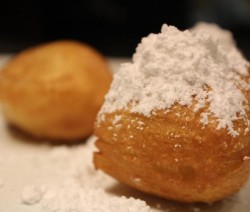 Mel says "A fast and yummy way to a big ole plate of fake beignets! Fool all of your friends when they come visit!" The Chef favors Pillsbury Grand Buttermilk or Flaky Biscuits brand. Ingredients1 package biscuits 1.5 cups oil powdered sugarDirectionsStep 1Pour oil into a skillet and start warming ...
Read more Cajuns have added many dishes that are not native to their original eating habits. This is one of them; an easy way to make would be enchiladas. It is easy and quick and good. Ingredients2 pounds beef 2 cans Hormel Chili (w/or wo/beans) 6 tortillas 1/2 small chopped onion 1 ...
Read more Mama made this easy fruitcake for Christmas. Ingredients12 ounces box vanilla wafers crushed 1 can condensed milk 2 cups chopped pecans 1 - 8 ounce dates chopped 1 1/2 cup coconut 4 ounces red candied cherries 4 ounces green candied cherries 4 ounces candied red pineapple chopped 4 ounces candied ...
Read more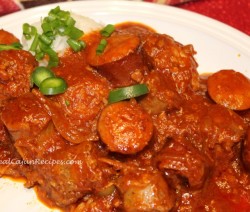 **A spicy red gravy for pork sausage that goes extremely well over rice** This dish can be made with all fresh sausage or all smoked sausage. Get me a slice of bread I am cleaning my plate. No V-8 – No problem use tomato sauce. . Ingredients1 pound to 1 ...
Read more Cheesecake may be considered an American classic, but they have been popular throughout the ages. Cheesecakes of differing types were popular in ancient Greece and now popular in Cajun country, too! Ingredients1 (8 oz) package cream cheese 1 cup sugar or 1/2 cup Splenda 1 (8 oz) carton Cool Whip ...
Read more Fast, filling and delicious. This is a recipe I use when I forget to take something out of the fridge before I leave for work and come home and want something fast. Meat, vegetable and bread, all in one pan. My kind of meal at the end of a long ...
Read more A real quick biscuit recipe with a big taste. Ingredients1 (12 oz) beer 3 cups biscuit mix 2 tbsp sugarDirectionsStep 1Butter or grease the biscuit pan. Mix all ingredients. Shape into six biscuits. Step 2 Bake at 375 degrees till brown. Serve with Steen's syrup. For variety, you can add ...
Read more