Recipe Type:
Shortcuts We sold these at the Saturday Food Festival at the World Championship Gumbo Cook-off and they were a big hit. Ingredients1 lbs shrimp, peeled, de-veined, 30-40 ct 1 box Golden Dipt Cajun Seafood Coating Water Cooking oil 8" Wooden Kabob sticksDirectionsStep 1Mix the Golden Dipt Seafood Coating with enough water ...
Read more ROTEL brand tomatoes and chilies are a very popular staple in Southwest Louisiana. That brand of tomatoes is used in so many Cajun dishes, that many of us just say, "Add the Rotel." Rotel is a 10 oz can of diced tomatoes and green chilies, packed in its own juice. ...
Read more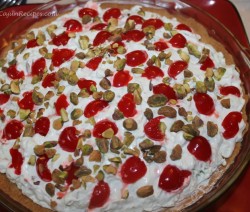 The pie crust adds such a delicious twist to the famous Pistachio Watergate Dessert. Ingredients1 - 3 ounce package Pistachio pudding 1 (15 oz) can unsweetened crushed pineapple 1 cup small marshmallows 1/2 cup nuts, chopped 1 large tub of Cool Whip; reserve one-half cup Crust 1 cup pecans chopped ...
Read more Adapted from the Hasbro Children's Hospital Cookbook, which raised funds for the pediatric center's original opening. Ingredients1 box yellow cake mix 1/2 cup almonds or walnuts, chopped 1/8 tsp nutmeg 2 eggs 1 1/2 cup eggnog 1/4 cup butter, melted powdered sugar (opt.) 1 cup granulated sugar 1/2 cup water ...
Read more This will take ordinary brownie mix to the next level. Bayou brownies! Ingredients1 package (2l.5 oz) brownie mix 6 oz pecans or walnuts, chopped 2 eggs 1 tsp vanilla 1 cup Cool Whip 1/4 cup chocolate chips 1/4 cup white chocolate chipsDirectionsStep 1In large bowl, mix cool whip, eggs and ...
Read more Pralines (Praw-leens) are sweet pecan candies, made for Cajun and Creole children. I loved it in the Fall. Ingredients2 cups pecans 1 stick butter (8 tbsp) 1 (5 oz.) can can pet evaporated milk 2 cups granulated sugar 1 tbsp vanillaDirectionsStep 1Mix all ingredients together in a glass microwave bowl ...
Read more This recipe has an interesting story behind it. MawMaw first ate this dessert at a get-together to celebrate the visit of the author's brother-in-law on leave from Iraq. It was the hit of the evening. The author tells us that her best friend won a blue ribbon for this dessert. ...
Read more