Recipe Type:
Diabetic A low-carb alternative to potatoes! Remember, good-quality turnips will be very firm, smooth-skinned and heavy for their size. The coloring will be light-purple on the top, fading to bright-white at the bottom. Ingredients4 - 5 medium turnips Cooking spray (Pam or alternative) 2 tbps of mixed seasonings (salt, pepper, garlic ...
Read more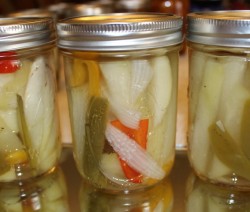 Used with gumbos or any rice and gravy dish in Cajun Country, chayote is a gourd-like squash that is about the size and shape of a very large pear. The skin is pale green and smooth with slight ridges that run lengthwise. Many compare the color to a light green ...
Read more Home made jam for diabetics. Ingredients1 (16 oz) can unsweetened applesauce 2 (4 oz) packages sugar free jelloDirectionsStep 1Warm applesauce in saucepan until hot but don't let it boil. When the applesauce is warm enough, add 2 packages of your favorite jello. Stir until well blended. Step 2After it is ...
Read more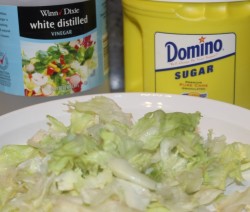 Grandma always had fresh lettuce in her vegetable garden; this was a daily dish during the spring and fall months.  Because they stay crisp, romaine leaves are great to use for this recipe also. Ingredients1 head lettuce leaves, washed and drained 1/2 cup white vinegar 1/4 cup water 1/2 cup granulated ...
Read more