Recipes With Course:
Other This delicious relish is great served with smoked sausage, ham or any other meat. It is especially delicious served with lots of hard boiled eggs! Ingredients2 cans #303 one pound whole beets 1/2 cup white vinegar 1/4 cup sugar 1/2 tsp salt 1 small bottle horseradishDirectionsStep 1Grate beets and drain ...
Read more An old fashioned and inexpensive method of preparing your own pancake and waffle syrup. There are many variations such as adding a little vanilla extract, or any flavor extract you prefer. Plus you have hot syrup with no fuss! So when you reach out and find you are out of ...
Read more Ken's recipe request asked: "My mother used to make croquinoles and a Steen's syrup coating to dip them in. I know she cooked the syrup then let them set. They were gummy but good." Ken also adds – "Very good and better if you add a little crushed pecan on ...
Read more Do you love to cook omelets or do a lot of camping? If so, this recipe is for you! Omelets cooked in zip lock plastic bag… It really works and is simple to prepare when family and friends get together for breakfast. Ingredients2 large eggs per person Any variety of ...
Read more Vegetables seem to ripen at the same time; here is a freezing method that will allow you to enjoy your summer bounty anytime you like. Ingredients15 cups corn 3/4 cup sugar 1/4 cup canning salt 5 cups ice waterDirectionsStep 1Cut corn off cob. Step 2 Measure corn, sugar, canning salt, ...
Read more Chocolate is everyone's favorite. This icing can also be use to frost cupcakes. Ingredients1 square chocolate, unsweetened 6 tbsp water, boiling 1/3 tsp vanilla extract 1 3/4 cup confectioners' powdered sugarDirectionsStep 1Melt chocolate in top of double boiler. Add boiling water and stir until smooth. Optionally, dissolve 1/3 cup cocoa ...
Read more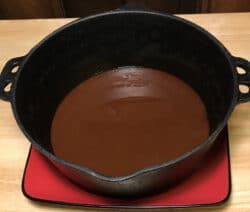 Roux can be made on the stove top, in a microwave or in the oven. Either method will fill your home with a nice nutty aroma and the promise of a good meal starting. Ingredientsall-purpose flour canola oil heavy duty pot or cast iron potDirectionsStep 1There are different ways to ...
Read more A popular old time classic. Ingredients4 quarts green tomatoes 2 quarts onion 3/4 cup salt 1 quart vinegar 3 cups brown sugar 1/2 cup pickling spiceDirectionsStep 1Coarsely chop the tomatoes and onions and add salt previously dissolved in sufficient water to cover the vegetables. Let stand 24 hours. Step 2 ...
Read more