Recipes With Course:
Other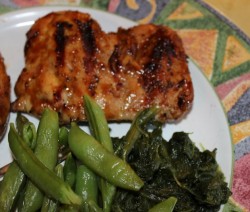 Ingredients1/2 cup onion, chopped fine 1/2 cup bell pepper, chopped 1 (8 oz) can Gebhardt's barbecue sauce (or other bbq sauce) 1 bottle ketchup 1/4 cup sugar 1/2 cup celery, chopped 2 cloves garlic, minced fine 1 (15 oz) can tomato sauce 5 drops Worcestershire Sauce 1/4 cup salad oilDirectionsStep ...
Read more Sweet and sour, but mostly sweet. Ingredients1 gallon jar Classic Kosher Whole Dill Pickles 5 - 6 cups sugar 6 cloves of garlic, slicedDirectionsStep 1Drain all of the juice in the gallon jar of pickes. Discard. Step 2Slice the whole pickles into 1/4 inch coins. Step 3Return the pickles to ...
Read more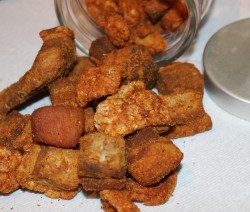 A great tasting snack especially with boudin (boudoin) or cush cush. IngredientsPork meat with fat attached Oil for frying Salt and pepper (red and black) to tasteDirectionsStep 1Method 1 - Cut pork into 2-inch squares. You should cut for skin, fat, and meat on each square. Step 2Place the pork ...
Read more