Recipes With Course:
Other One of the more popular chow chow that goes really well with rice and gravy or a Ball Parks Weiner hotdog! Ingredients4 cups ground up onions 4 cups ground up cabbage (medium head) 4 cups ground up tomato about 10 12 ground up green peppers 6 ground up sweet red ...
Read more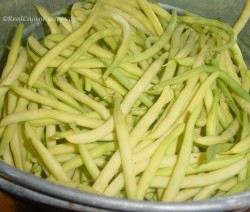 Green beans have many common names – string beans, pole beans, snap beans just to name a few. Two of my favorite ways to eat green beans is to break it off the plant and eat it fresh; the other is pickled. Ingredients4 quarts green beans or yellow waxed beans ...
Read more Eggplant lovers unite! Another way to eat one of our favorites. Ingredients4 large eggplants 7 sweet peppers 10 tomatoes 5 cups chopped scallions green onions 1 cup salad oil 3/4 cup vinegar 3 tsp salt 1 1/2 tsp pepperDirectionsStep 1Bake 4 eggplants for 1 hour in a 400 degree oven. ...
Read more Here is a great idea on how to use your green tomatoes before the stink (chinch) bug attacks them or if it rains too much and your tomatoes don't ripen! Ingredients12 pounds to 13 green tomatoes or 1 peck 8 large onions 10 green bell peppers 3 tbsp salt 6 ...
Read more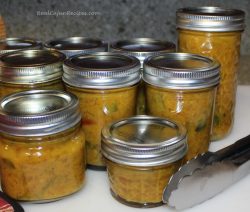 Maw-Maw likes to call this one Hot Dog Relish. Many refer to chow-chow as a catch-all term for any vegetable based relish. Chow-chow is meant to be a condiment and is usually put on top of or alongside the food. This dish is meant to enhance the dish you are ...
Read more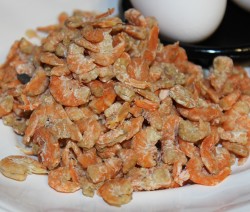 In the days when there were no refrigerators, people used to cure their meats and fish with salt. It has been soaked in a salty solution and then dried until it is very hard, much like people used to do over a hundred years ago. Salt is considered antibacterial because ...
Read more The fish are difficult to dress, but the meat cooks up white and flaky, and tastes delicious. Like any other flavorful white-meat fish, gar can be baked, stewed, fried, grilled or broiled. Garfish have a low to medium fat content and the flavor is sweet to mild. They are usually ...
Read more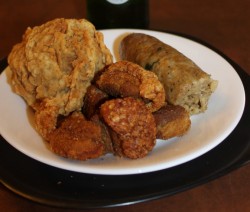 Although cracklins (grattons in Cajun) are commonly known as pork rinds or baconettes, they are really not the same. While both are both made with pork fat, each has a different method of cooking and a different cut of meat. To make cracklins you use a cut of pork that ...
Read more