Recipes With Course:
Other Rice and Gravy? Cajuns love pepper relish with their rice and gravy. Distilled white vinegar is the first choice for pickling. Do not use pure granulated salt as it may draw out the juices, harden the tissues and checks the action of the organism which may cause spoilage in your ...
Read more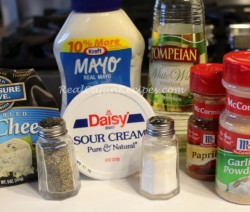 Blue cheese dressing is a popular salad dressing that has been adopted into Cajun culture. Great with our Cajun Hot Wings recipe on this site Ingredients6 ounces Blue Cheese crumbles 1 cup sour cream 1/3 cup mayonnaise 1/4 cup wine vinegar 1 tbsp grated onion (very fine) 1/2 tsp salt 1/2 tsp garlic ...
Read more Tartar sauce is a thick sauce usually served with fried seafood. It's better if prepared several hours before you will be using it, but it can be used immediately. Ingredients3/4 cup mayonnaise 1 tsp lemon juice 1 tbsp pickle relish 2 tbsp dijon mustard 2 sprinkles of fresh parsley Salt ...
Read more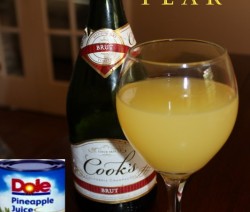 I love to go to brunch and enjoy mimosas, this is an easy recipe to make them at home. Ingredients2 cups orange juice with pulp 1 cup pineapple juice 2 tbsp grenadine 1 (750 milliliter) bottle of Champagne or sparkling wineDirectionsStep 1Chill all ingredients thoroughly. Combine the juices and grenadine, ...
Read more Your garden has split it seams with too many tomatoes. Not enough friends to share them with? Try this recipe, great for a cocktail dipping sauce or served with fried foods or grilled steaks. Ingredients1 gallon ripe tomatoes (peeled and cored) 2/3 cup white onion, chopped 1 large green bell ...
Read more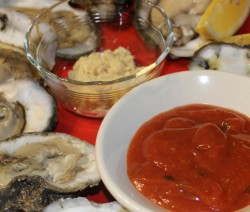 A delicious crawfish dipping sauce. Ingredients1/4 cup ketchup 2 tsp Worcestershire sauce 2 tsp prepared horseradish or more or less to suit your taste 3 shakes of TabascoDirectionsStep 1Mix all ingredients and start dipping your fresh boiled crawfish or shrimp tails or spread on your freshly washed shucked oysters!
Read more Marinades are used to neutralize the game flavor in ducks and wild game. I have used several marinades, including the basic Italian Dressing, but I find this one to be exceptional. Ingredients2 cups dry wine 1/2 cup soy sauce 1/4 cup balsamic or red wine vinegar 1/4 cup vegetable oil ...
Read more I tried this recipe from www.allrecipes.com by Gail Law for my bread pudding and it was so good. The recipe calls for milk, but cream may be substituted. Pour over coffee cake. Refrigerate for a week or more and reheat just before serving. Ingredients1/4 cup butter 3 tbsp all purpose ...
Read more