Recipes With Course:
Other So Many Cucumbers and So Little Time to Eat Them? Freezer Pickles can get you more time to enjoy them. This is a good way to make use of plastic margarine tubs, peanut butter & mayonnaise containers. These are so good you will want to eat them right out the ...
Read more This is so good that it'll make a hound break a log chain to get to it. One day at work I asked if anyone had any unusual recipes. A young lady, Jordan Raymer, asked if I had ever had Chocolate Gravy and Biscuits. That one got my attention. Ingredients1 ...
Read more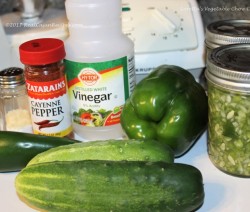 Loretta is like many Cajun cooks mixing up some of this and some of that. This recipe may be considered somewhat vague in directions but it is so good with rice and gravy and uses fresh vegetables from your garden that it is worth trying. Grandpa always has this on his ...
Read more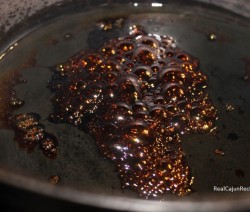 Many Cajun cooks start off their meat gravy, chicken gravy and sausage gravy by caramelizing sugar. The result is a "brown gravy" that everyone likes and Momma would be proud of. Interestingly the gravy is not sweet; caramelizing burns out the sweetness. Ingredients1/4 cup of oil 1/4 cup sugar 1 ...
Read more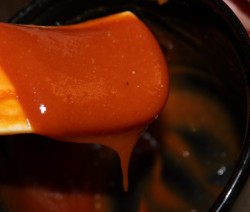 Prepare your favorite meatloaf recipe; prepare this sauce, pour on your meatloaf and bake. Paw Paw created this one day when cooking Mawmaw favorite meatloaf. Ingredients1 cup catsup or ketchup 1/4 cup yellow mustard 1/8 tsp mustard powder 1 tbsp lite soy sauce 1/2 tsp white vinegar 1/8 tsp black ...
Read more Chow Chow is a culinary term for any spicy or piquant preparation used to enhance flavour of plain food. In the UK, a thin pickle or sauce with a vinegar base; in the USA it includes finely chopped fruit or vegetables with a dressing of salt, sugar, and vinegar, sometimes ...
Read more This is what Mawmaw uses to season her meats and gumbo and her own Cajun dishes. Ingredients1/4 cup salt 1 tbsp cayenne 1/2 tbsp paprika (optional) 1 1/2 tbsp onion powder 1 tbsp ground black pepper 1 tbsp white pepper 1 tbsp to 1 1/2 of garlic powder or granules ...
Read more Rice and Gravy? Cajuns love pepper relish with their rice and gravy. Distilled white vinegar is the first choice for pickling. Do not use pure granulated salt as it may draw out the juices, harden the tissues and checks the action of the organism which may cause spoilage in your ...
Read more