A Gift from Maw-Maw
My mom, the Maw-Maw of RealCajunRecipes.com, got really creative and decided to frame my niece and nephew's favorite recipes and give it to them as a Christmas gift. (Ain't that so Cajun.. getting gifts that revolve around food? 😉 This is what my nephew's recipe looked like: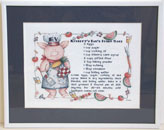 Click for a larger picture
I loved them! So much, in fact, I asked for about "thirty please!" to decorate my own kitchen. My mom knows how much I love cooking so she went a step further and found frames made out of Cajun barn wood while she was down in Louisiana.
Last night, I finally put them up in my kitchen. I have a total of five that I put up. Two of them are in wooden frames and the other three look more like the recipe picture up above. One is actually for my girlfriend Delia whom my mom gave a recipe picture for Christmas as well. She got a framed version of her favorite recipe — Corn Crab Bisque 😀
I regret that these pictures aren't really clear but here are what my favorite two look like
Pardon the dirty stove — this picture was taken right after I made a gigantic amount of roux and petite pois. My roomies also made some italian that night too. Speaking of my housemates — they love the new pictures and find that our place looks more homey now.