Recipe Type:
Pork Ribs make such a delicious dish. Short ribs are some of Mawmaw's favorite. Beef short ribs are larger and usually more tender and meatier than their pork counterpart, pork spare ribs. Short ribs are cut from the rib and plate primals and a small corner of the square-cut chuck. A ...
Read more Giblets used in this recipe typically include the heart, gizzard, and liver.
Read more This is a tomato-based pork chop casserole.
Read more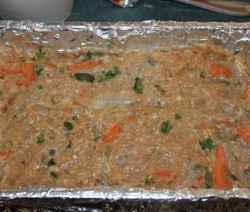 This is a semi-spicy Cajun meatloaf that calls for Everglade Seasonings which is also known as Monkey Dust. It is made of salt, spices, monosodium glutamate, dehydrated garlic and onion, sugar, and papain.
Read more WBRZ of Baton Rouge, LA has a spotlight segment that celebrates a "Chef of the Month". The Chef featured was the chef from Juban's Creole restaurant. This recipe is timely as mirliton are in season at his time and relatively inexpensive.
Read more Our recipe submitter writes: I'm not Cajun, just an ole Mississippi boy, but my Granddaughter married a boy from Mamou so I feel like I'm part of the family. I think all of my Cajun friends will like this dish.
Read more Delicious pork roast prepared on a grill. This recipe was given to me by my Cajun cousin, Sally Sonnier Hand. It may have originated with her dad, Uncle Otis Sonnier. Wherever it came from it is a delicious Cajun way to cook a pork roast and I think it will ...
Read more This is a popular recipe request. This recipe is one of the classics and as with the old recipes, cooks use a lil of this and a lil of that. Between Mawmaw and Bert, the beginning of the semblance of a recipe has been created. This recipe calls for an ...
Read more