Recipe Type:
Pork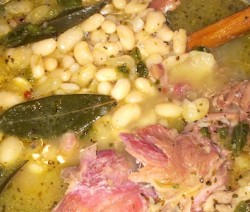 This is an amazing ham and bean soup.  It's also the perfect way to use the leftover ham bone or ham slices after Thanksgiving or Christmas.  An added bonus to this recipe is its flexibility.  If you don't deem yourself a great cook, or are afraid of taking on such ...
Read more Cajuns love their rice, and their modern rice cookers. No matter the brand, Cajuns refer to their rice cooker as a Hitachi!
Read more Dirty Rice gets its name from the rice looking "dirty" after the dish is complete. The chicken giblets give this dish its unique flavor.
Read more The author writes "I wasn't able to find the recipe but I do remember exactly how it was prepared. My mother directed me on how to prepare it. Grillards is really marinate (marinating pieces of meat). I like lots of onions and bell peppers so I usually add more after ...
Read more Goulash originated in Eastern Europe, but is now commonly made in Southwest Louisiana.
Read more