Recipe Type:
Crawfish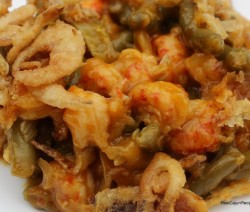 A new take on an old holiday classic favorite – the traditional green bean casserole. This is just the change you are looking for. Par-boiled fresh green beans may be used. Green beans and string beans are used interchangeable in the Cajun vocabulary. Shrimp may be used in place of ...
Read more The original recipe was for the broccoli corn bread and it was my family's favorite. But my husband has to have some type of meat, so I came up with this, and everyone loved it. I have also used shrimp, left over chicken that I deboned or even pre-cooked ground ...
Read more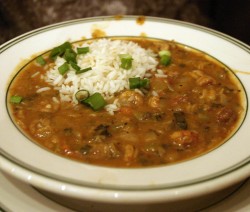 Bar none, this is the best crawfish etouffee I've ever had that doesn't require a roux or FRESH crawfish, which I do not have access to in Wisconsin. This recipe utilizes frozen, packaged crawfish tails which are easily attainable in your grocer's seafood section. I hope you all enjoy it ...
Read more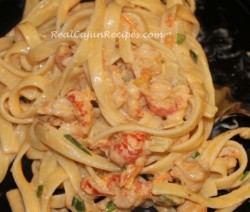 This recipe is an adapted version of the original recipe and has been a popular requested dish. From Wikipedia  ~ Crawfish Monica is a Louisiana food tradition. Ingredients include pasta, crawfish tail meat, onion, garlic, seasoning, cream, wine, salt, pepper, and butter. The original dish was created by chef Pierre Hilzim who is the ...
Read more Boulette is a French term meaning 'little ball', which is applied to a fairly whiffy soft cheese that is made in Belgium and French Flanders.
Read more How nice to put the gumbo to cook in a crockpot before leaving for work or shopping and come home from work and have gumbo ready to eat. This gumbo can be served as a side to a main dish or can be the main dish!
Read more Stuffed Pasta Shell with Goat Cheese, Smoked Alligator Sausage, Crawfish, cream and spices – One of our realcajunrecipes.com co-founder Chrissy LeMaire favorite appetizers! From the owners of PJ's – "Christina LeMaire came to PJs to eat recently. Please tell her hello and thank you for a really great web site. ...
Read more