Recipe Type:
Classics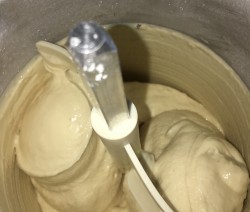 Perfect for Fourth of July Celebration. Did you know –  in the process is that the machine actually churns air into the ice cream base as it freezes the mixture. After the machine has stopped either serve the ice cream as soft serve or place in the freezer to completely ...
Read more Ingredients3 cups of fresh blackberries2 cups sugar separated1 cup flour1 egg1 stick butter melted (8 tablespoons)1 teaspoon vanilla1 teaspoon baking soda1 teaspoon baking powder1 teaspoon salt1 teaspoon vanillaDirectionsStep 1If using fresh, wash, drain and paper towel dry berries lightly.. Step 2In a bowl, add one cup of sugar to the ...
Read more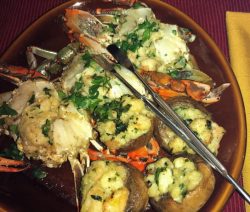 A nice alternative to boiling crabs.- stuffing can be used to stuff mushrooms and to make shrimp egg rolls Ingredients12 crabs cleaned and seasoned with salt and pepper or your favorite Cajun seasoning1 cup chopped onions1 pound chopped shrimp8 tbsp butter1 tsp Cajun seasoning to taste1/4 cup Parmesan cheeseOne slice ...
Read more A different version of cush cush to quote our author "oooolala so good". A staple breakfast or supper food of the Cajun Culture – IngredientsLeftover cornbreadbacon greaseiron skilletmilksugar to tasteDirectionsStep 1Take left over cornbread and crumble really smallStep 2Heat up bacon grease in an iron skilletStep 3"Throw" the crumbled cornbread ...
Read more I was raised in Lafayette Louisiana and remember eating this growing up and I think this is my favorite Jambalaya .Although you never here it being cooked a lot by Cajuns . I think it is a well deserved dish that should be remembered in Cajun world.
Read more There are as many ways to cooks bread pudding as there are Cajun Cooks – all are winners. Ingredients5 cups state bread pieces4 cups whole milk3 eggs well beaten2 cups sugar4 tablespoons butter1 cup coconut1 teaspoon vanillaDirectionsStep 1Place bread pieces in an 8x10 baking panStep 2In a large bowl combine ...
Read more Properly called bowfin, the fish carries more aliases than John … trout, cotton fish and in South Louisiana, choupique (pronounced shoe-pick). Like gars, bowfin are bimodal breathers which means they have the capacity to breathe both water and air. Bowfin are considered a "trash fish" by many, but are treasured table fare to some, who find them ...
Read more