Recipe Type:
Classics Bring back the memories – Old Fashioned School House Peanut Butter Balls Ingredients1 (18 oz) jar peanut butter1 stick margarine or butter1/4 pound paraffin1 (1 pound) box confectioners sugar1 (12 oz) package chocolate chipsDirectionsStep 1Melt margarine and peanut butter over low heat; stir often. Step 2 Remove from heat and ...
Read more Perfect for bundt cakes, coffee cakes, apple cake …did I mention cake? Ingredients1/2 cup flour1/2 teaspoon cinnamon1/2 cup brown sugar4 tablespoon softened butter DirectionsStep 1For the crumb topping, mix the butter with flour, cinnamon, and brown sugar until crumbs form. Sprinkle crumbs on top of cake and bake cake according ...
Read more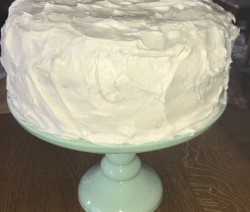 This was a bakery recipe that was shared – perfect for wedding cakes. Baker make 2 recipes for a wedding cake (3 tier); cut this in half for a regular size cake. If you make the whole recipe, you can refrigerate the leftover. You will be pleasantly surprised on how ...
Read more A nice twist to an angel food type cake – an old-school type of cake, Ingredients2 sticks butter or margarine (8 tbsp)2 cups sugar6 eggs12 oz package vanilla wafers1/2 cups milk or carnation evaporated milk1 package 7oz angel coconut1 cup chopped pecansDirectionsStep 1Cream two sticks of butter or margarine with ...
Read more This recipe has been adapted from Aunt Betty's recipe adding beef to the original recipe. The Ritz crackers gives this dish it unique delicious flavor. Ingredients2 - 2 1/2 pounds fresh yellow squash - approx 6 cups1 1/2 pounds ground meat4 - 6 slices bacon cut 2 inch pieces1/2 cup ...
Read more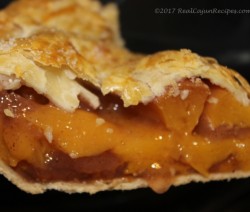 Pie consistency is perfect; Paw-Paw dubbed it the "perfect peach pie".     Firm peaches are recommended   Ingredients2 - 9 inch pastry pie crust egg white with 2 teaspoon water2 1/2 - 3 pounds medium size firm peaches sliced - 5 1/2 cupsJuice of one lemon or 3 tablespoons ...
Read more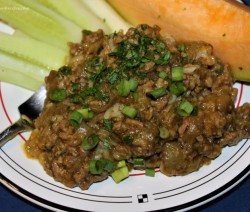 Aubergine, Eggplant or like my Cajun Momma use to say la Breme – Great in dressing, fried or etouffeed (smothered) – C'est tout bon Ingredients1 pound ground beef1 pound ground pork 1 large onion chopped1 medium bell pepper or sweet banana pepper chopped4 cloves or 1 teaspoon fresh garlic 3 ...
Read more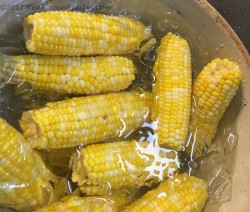 Fresh corn on the cob anytime you want.     IngredientsFresh Corn shucked and cleanedWaterFreezer BagsDirectionsStep 1Blanching and Cooling time depends on the Diameter Size of the corn Step 2Small corn 1 inch - 7 minutes Medium corn 1 1/4 to 1 1/2 inches - 9 minutes Large corn 1 ...
Read more