Recipe Type:
Classics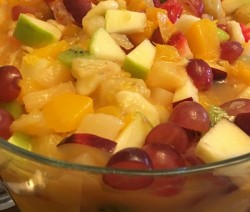 In memory of Triston Francis Bourque From Wikipedia – Fruit salad is a dish consisting of various kinds of fruit, sometimes served in a liquid, either in their own juices or a syrup. When served as an appetizer or as a dessert, a fruit salad is sometimes known as a fruit cocktail or fruit cup. In ...
Read more The sauce for this chocolate bread recipe hardens on the bread. The cook of the recipe writes – My Mom, Verlene Abshire made this when i was a lil girl. Now we make this for my kids and all their friends. They love it and we make a whole loaf ...
Read more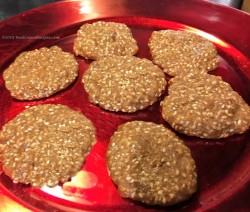 A wonderful old time sesame candy. When I was a little girl, I remember an aunt would make candy with sesame seeds… this is the recipe! The Cajun word for sesame is benne and roasting them brings back wonderful childhood memories. Ingredients3 sticks (8 tbsp) unsalted butter - 1 1/2 ...
Read more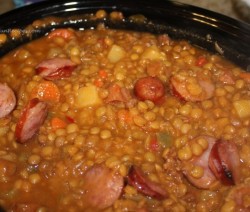 Southerners love their beans. Substitute your favorite dried bean – great for northern beans. Ingredients1 lb dried lentil beans or northern beans2 carrots, sliced in coins2 onions, chopped2 stalks of celery, chopped1 tbsp melted butter3/4 lb smoked Cajun Smoked Sausage cut in rings1/2 lb cooked ham, cut in cubes1/2 pound ...
Read more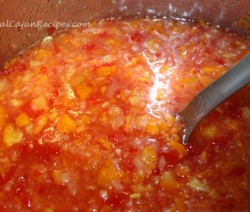 Kumquats or kumquats fruits can be eaten skin and all and they can also be made and eaten as a delicious preserve. Maw-Maw loves making preserves and jelly with the abundance of citrus available at this time of the year – Share the wealth with taunts and cousins 🙂 Ingredients2 quarts kumquats ...
Read more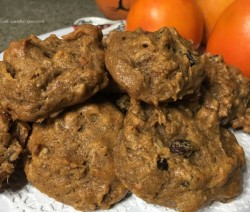 Persimmons referred to as  "the fruit of the Gods," are a perfect fruit and can be used in jellies and baking. But most will agree the best way to enjoy is right off the tree. Recipe is an adaptation from Mrs. Mae Cox Sweetlake LA Ingredients1/2 cup shortening or butter1 cup ...
Read more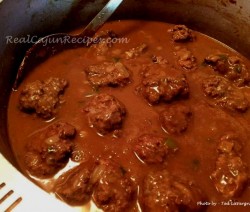 A popular south Louisiana witticism holds that there are three ways one can become a Cajun: "by blood, by marriage, and by the back door". In short, Great Food, Great Party, Great Times! Cajuns' great love of food, flavor, culture and tradition are embedded deep in their roots and the marriage ...
Read more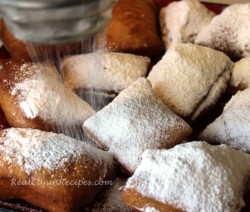 This recipe was taken from an artist print that was purchased back in 1987 and edited for clarity of instructions. The print was signed by the artist Merry Pierce-Lowrey. Serve beignets with cafe au-lait or a cold glass of milk. Ingredients1/4 cup shortening1 package active dry yeast or 21/4 tsp ...
Read more